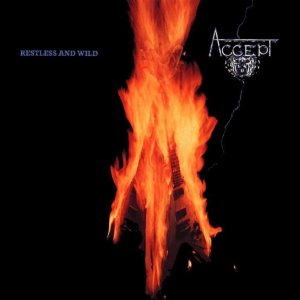 Restless and Wild
| | |
| --- | --- |
| Artist | |
| Type | Studio Full-length |
| Released | 1982-10-04 |
| Genres | Heavy Metal |
| Labels | Brain |
| Length | 43:49 |
Reviews : 0
Comments : 0
Total votes : 0
Rating : -
Added by

Eagles
Last edited by

SludgeLeader
Restless and Wild Information
| | Title | Length | Rating | Votes |
| --- | --- | --- | --- | --- |
| 1. | Fast as a Shark | 3:49 | - | 0 |
| 2. | Restless and Wild | 4:12 | - | 0 |
| 3. | Ahead of the Pack | 3:24 | - | 0 |
| 4. | Shake Your Heads | 4:17 | - | 0 |
| 5. | Neon Nights | 6:01 | - | 0 |
| 6. | Get Ready | 3:41 | - | 0 |
| 7. | Demon's Night | 4:27 | - | 0 |
| 8. | Flash Rockin' Man | 4:28 | - | 0 |
| 9. | Don't Go Stealing My Soul Away | 3:15 | - | 0 |
| 10. | Princess of the Dawn | 6:15 | - | 0 |
Udo Dirkschneider

:

Vocals, Music, Lyrics

Wolf Hoffmann

:

Guitars, Music, Lyrics

Peter Baltes

:

Bass, Music, Lyrics

Stefan Kaufmann

:

Drums, Music, Lyrics
Production staff / artist
Deaffy

:

Music (tracks 5, 10)

Stefan Böhle

:

Design, Photography

Robert A. Smith-Diesel

:

Lyrics (tracks 2, 5, 6, 9, 10)

Didi Fill

:

Portraits

Erhard Schulz

:

Photography

Vic Anesini

:

Mastering

Michael Wagener

:

Engineering, Mixing

Tim Young

:

Mastering
Additional notes
Produced by Accept.
Recorded on February, March & June 1982 at Dierks Studios in Cologne, Germany.

Release dates:
October 4th, 1982 - Germany
March 1983 - U.S., U.K., Canada and Europe

Herman Frank is credited with playing on the album, but all guitars were recorded by Wolf Hoffmann before Herman joined the band.