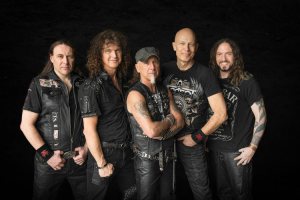 Accept
a.k.a.
ex-Band X
Country

Germany

Formed
1976,

Solingen, North Rhine-Westphalia

Genres

Heavy Metal

Labels
Nuclear Blast
Mark Tornillo

:

Vocals

(2009-)

Wolf Hoffmann

:

Guitars

(1976-1989, 1992-1997, 2005, 2009-)

Uwe Lulis

:

Guitars

(2015-)

Peter Baltes

:

Bass

(1976-1989, 1992-1997, 2005, 2009-)

Christopher Williams

:

Drums

(2015-)
Frank Friedrich

:

Drums

(1976-1979)

Gerhard Wahl

:

Guitars

(1976-1978)

Udo Dirkschneider

:

Vocals

(1976-1987, 1992-1997, 2005)

Jörg Fischer

:

Guitars

(1978-1982, 1984-1988)

Stefan Kaufmann

:

Drums

(1980-1989, 1992-1994)

Herman Frank

:

Guitars

(1982-1984, 2005, 2009-2014)

Michael White

:

Vocals

(1987)

Rob Armitage

:

Vocals

(1987-1988)

David Reece

:

Vocals

(1988-1989)

Ken Mary

:

Drums

(1989)

Jim Stacey

:

Guitars

(1989)

Stefan Schwarzmann

:

Drums

(1994-1995, 2005, 2009-2014)

Michael Cartellone

:

Drums

(1995-1997)
Releases : 18 Total votes : 2 Reviews : 1
Added by

Eagles
Last edited by

SludgeLeader
Additional notes
When the band originally formed in 1968, they were known as Band X, and featured vocalist Udo Dirkschneider, guitarist Michael Wagener (who later went on to become a famous record producer, mixer, and engineer), bassist Dieter Rubach and drummer Birke Hoe. The band officially became Accept in 1976, when Udo assembled a new lineup, featuring Udo on vocals, Wolf Hoffmann and Gerhard Wahl on guitar, Peter Baltes on bass and Frank Friedrich on drums.

Accept have reformed and called it quits several times. They first split-up in 1989, reformed in 1992 and then broke up again in 1997. In 2005, the key members of Accept briefly reformed for a tour that was believed to be their last due to Udo Dirkschneider's insistence that he would not be involved with any further recordings with Accept. In May 2009, however, the rest of the line-up from the 2005 tour regrouped permanently with Mark Tornillo as the new vocalist.

Lyrical collaborator "Deaffy" was a pseudonym used by long-time band manager Gaby Hauke, who is now married to Wolf Hoffmann.