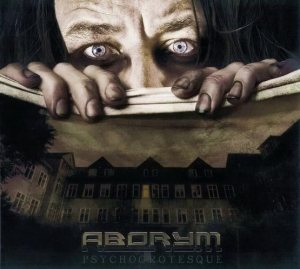 Psychogrotesque
Reviews : 0
Comments : 0
Total votes : 0
Rating : -
Have : 0
Want : 0
Added by

SludgeLeader
Psychogrotesque Information
| | Title | Length | Rating | Votes |
| --- | --- | --- | --- | --- |
| 1. | I | 1:56 | - | 0 |
| 2. | II | 5:03 | - | 0 |
| 3. | III | 4:05 | - | 0 |
| 4. | IV | 4:36 | - | 0 |
| 5. | V | 5:40 | - | 0 |
| 6. | VI | 6:14 | - | 0 |
| 7. | VII | 5:12 | - | 0 |
| 8. | VIII | 2:30 | - | 0 |
| 9. | IX | 2:48 | - | 0 |
| 10. | X | 8:43 | - | 0 |
Fabban

:

Vocals, Bass, Keyboards

Hell:I0:Kabbalus

:

Guitars, Keyboards, Programming

Bård G. Eithun "Faust"

:

Drums
Guest / session musicians
Marcello Balena

:

Saxophone (Tracks 5, 6)

Narchost

:

Samples (Track 5)

Emiliano Natali

:

Guitars (lead) (Track 2), Additional Bass, Vocals (falsetto)

Karyn Crisis

:

Additional Vocals () (Tracks 3, 6, 10)

Davide Tiso

:

Additional Guitar (Tracks 2 Intro, 8, 10 Outro)

Richard K. Szabo

:

Additional Electronics (Track 9)

Marc Urselli

:

Additional Music, Additional Beats (Track 9)

Giulio Moschini

:

Guitars (lead) (Track 10)

Pete Evil

:

Guitars (lead) (Track 10)
Production staff / artist
Emiliano Natali

:

Engineering, Mixing, Mastering

Malfeitor Fabban

:

Producer, Artwork

Marc Urselli

:

Sound Consulting

Walt Westinghouse

:

Engineering (Karyn Crisis' Vocals)

Davide Tiso

:

Engineering (Karyn Crisis' Vocals, Additional Music)

Ruben Willem

:

Engineering (Pete Michael Kolstad Vegem's Guitar Solo)

Alessandra Paolelli

:

Historical and Sociological Research, Excerpts

Bianca Soellner

:

Translations

Leonardo Breccola

:

Photography
Additional notes
Recorded, mixed and mastered at Fear No One Studio, February / August 2010.
Sound consulting at Eastside Sound Studios, New York
Karyn Crisis' voices recorded in Oakland, CA.
Davide Tiso' additional music recorded at 1275 Home Studio, Berkeley, CA.
Pete' solo recorded at Caliban Studios, Oslo, Norway.

Released in Austria as Jewelcase CD, in France as limited edition Digipack CD (both SOM 225) and limited 2x12" Gatefold Vinyl at 45 RPM with digital download card (SOM 225LP).

There's an eleventh (ghost) track lasting for 02:09, starts after 03:44 of silence.

Tracks 4 and 9 are spoken word songs.