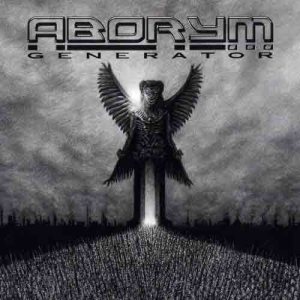 Generator
Reviews : 0
Comments : 0
Total votes : 0
Rating : -
Have : 0
Want : 0
Added by

SludgeLeader
| | Title | Length | Rating | Votes |
| --- | --- | --- | --- | --- |
| 1. | Armageddon (Intro) | 1:12 | - | 0 |
| 2. | Disgust and Rage (Sic Transit Gloria Mundi) | 5:53 | - | 0 |
| 3. | A Dog-Eat-Dog World | 5:08 | - | 0 |
| 4. | Ruinrama Kolossal S.P.Q.R. (Satanic Pollution - Qliphotic Rage) | 6:24 | - | 0 |
| 5. | Generator | 5:45 | - | 0 |
| 6. | Suffer Catalyst | 5:23 | - | 0 |
| 7. | Between the Devil and the Deep Blue Sea | 4:08 | - | 0 |
| 8. | Man Bites God | 7:12 | - | 0 |
| 9. | I Reject! | 3:14 | - | 0 |
Prime Evil

:

Vocals

Nysrok Infernalien Sathanas

:

Guitars, Synths

Malfeitor Fabban

:

Bass, Synths, Choir

Bård G. Eithun

:

Drums
Guest / session musicians
Richard K. Szabo

:

Intro Music (track 8)

Jiehna Ycosahateron

:

Noises

Cultoculus

:

Backing Vocals

Attila Csihar

:

Vocals (on "Man Bites God")
Production staff / artist
Christian Ice

:

Mixing, Mastering, Producer, Special Effects

Nysrok Infernalien

:

Sathanas Producer

Malfeitor Fabban

:

Producer, Layout

Lorenzo Mariani

:

Cover Art
Additional notes
The release credits do not specify for which tracks guest artists Cultoculus and Jiehna Ycosahateron are.

Recorded at Temple of Noise Studios, Rome, April / July 2005.
Mixed and mastered at Temple of Noise Studios, Rome, September 2005.

SFX powered at Star Killer Sound.

"This album is dedicated to Attila Csihar, voice of death in Aborym from 1998 to 2005.
Aborym proudly support Planet Satan Revolution philosophy.
Total death and no fucking mercy!
Per uccidere si deve odiare. Chi odia vive in eterno."

Released as Digipack CD in France/USA (SOM 123).
Also released in Russia by CD-Maximum (CDM 0306-2440), May 2006.