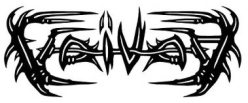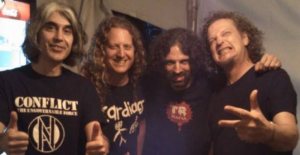 Voivod
Snake

:

Vocals

(1983-1994, 2002-)

Chewy

:

Guitars

(2008-)

Rocky

:

Bass

(2014-)

Away

:

Drums

(1981, 1982-)
Blacky

:

Bass

(1981, 1982-1991, 2008-2014)

Piggy

:

Guitars

(1981, 1982-2005)

(R.I.P. 2005)

Jean Fortin

:

Bass

(1982)

E-Force

:

Vocals, Bass

(1994-2001)

Jasonic

:

Bass

(2002-2008)
Releases : 37 Total votes : 0 Reviews : 0
Added by

Eagles
Last edited by

SludgeLeader
Additional notes
Voivod started in 1981, when guitarist Denis D'Amour (Piggy) had been searching for several musicians to start a band with, until he found Jean-Yves Thériault (Blacky), who agreed to play bass in his band. However, Blacky did not know how to play bass at the time, but Piggy was musically adept so he took Blacky under his wing. Blacky later hired Michel Langevin (Away), who had been a friend from high school, as their drummer, and the trio joined forces to harvest their own brand of noise. Unfortunately, the project did not last, because "everything went wrong because nobody could play," according to Away. "Piggy was the only true musician."

Blacky and Away needed time to develop their skills, so as a result the band split up for a one-year period. After reforming in November 1982, Voivod officially became Voivod after they hired Denis Bélanger (Snake) as their singer in January 1983. The completed lineup played their first show on June 25, 1983, and played cover versions of Judas Priest, Motörhead and Venom songs, as well as their own material. This gig was also recorded on their first demo 'Anachronism', which credited the band members as Snake - "throat, scream, insults, mike torture & weapon operator", Piggy - "burning metal-axe, electro- motive force & tremolition", Blacky - "blower bass, pyromania and shit" and Away "thunder and death machine, horror and visions".

After recording a series of demos, Voivod was discovered by Metal Blade Records owner Brian Slagel. The band agreed to record their song "Condemned to the Gallows" for his Metal Massacre V compilation, and Slagel offered the band a recording contract with his label. In 1984, Voivod entered the studio to record its debut studio album, resulting in War and Pain, which arrived in the summer of that year.

Rrröööaaarrr, recorded at L'Autre' studios in Montreal from between October and November 1985, followed up in 1986, their first for German label Noise Records and licensed to Combat for the USA. An extensive US tour was undertaken to promote the album, partnered with fellow experimentalists Celtic Frost and the somewhat mis-matched Running Wild throughout June. The band then hooked up with Possessed and Deathrow for European gigs in November, adding punks English Dogs for the closing London Electric Ballroom date. After the "Rrröööaaarrr!!!" tour ended in late 1986, Voivod immediately decided to return to the studio to record their next album, titled Killing Technology. The album was taken out on the road in North America in April and May 1987 backing German thrashers Kreator, the two bands uniting further for European gigs in November. Unfortunately the band's scheduled slot on the Megadeth headlined "Christmas on Earth" festival in Leeds, UK was stopped when customs officers confiscated the band's gear. Voivod turned up for the show but could only sit and watch the other bands perform. Again the faithful Iron Gang fan club was rewarded with two exclusive tapes, of shows recorded in Montreal and Brussels.

Voivod returned to the studio in the end of 1987 to cut Killing Technolgy's follow-up. The resulting album, 1988's Dimension Hatröss, succeeded in alienating critics yet drawing in the more adventurous metal fans. Progress was temporarily stalled as Voivod was forced to pull out of their "Dimension Hatröss" world tour when Piggy was diagnosed with a cancerous brain tumour. When surgeons warned that necessary surgery would in all probability curtail his guitar abilities, Piggy opted to decline an operation and instead threw his energies into the band. As such, the group forged an alliance with Vio-lence for North American concerts to close the year. Naturally a further live cassette, resulted in "A Flawless Structure".

Voivod's tenacity and reluctance to compromise was rewarded with a major label deal via MCA Records subsidiary Mechanic for 1989's Glen Robinson produced Nothingface features the band's take on Pink Floyd's "Astronomy Domine" woven into the overall concept seeing the Voivod character now no longer content to wage war but struggling with multiple inner psychological dimensions. A heavy factor in this lyrical shift would be the tracks "Pre-Ignition" and "Missing Sequences", related directly to the band's roots and fear of Alzheimer's disease, with their friends and family living in the shadow of the Jonquière aluminum factory. Again embarking on US dates, Voivod took out Soundgarden and Faith No More as support acts. Nothingface was nominated for a Canadian Juno music industry award and topped off the album marketing by touring homeland arenas as guests to their idols Rush.

In 1990, Voivod returned to the studio with former Rush producer Terry Brown to record album number six. The album, now known as Angel Rat, was delayed for several months before it finally arrived in November 1991 because its release wasn't ready, Blacky had already left the band due to poor relationships with the members, and one song, "Nomads", was taken off of the album. Despite the fact that it was highly anticipated by both music critics and fans as a result of the band's success with the previous album, the album was not as successful as Nothingface. Following the release of Angel Rat, Voivod took a brief hiatus before they found Pierre St. Jean as their new bassist in early 1992, and returned to the studio later that year to record one more album for MCA. The resulting album, The Outer Limits, recieved favorable reviews but did not match the succcess of Nothingface and Angel Rat. The artwork on this album was done in 3D, and some copies came with 3D glasses. Gigs across the USA in September 1993 had Voivod heading a bill alongside Damn the Machine and Clutch.

In 1994, because of the sales for The Outer Limits being poor compared to their other releases, Voivod decided to abandon their five year relationship with MCA Records. Also during that year, Snake left the band to form a new project Union Made, and was replaced by a then-unknown singer and bassist named Eric Forrest. After releasing two more albums, Negatron and Phobos, to poor reviews, Voivod disappeared for a while before Forrest decided to leave the band.

After rumors of a reunion with original singer persisted, Snake returned to the fold in early 2002 and Jason "Jasonic" Newsted, who had just left Metallica, joined Voivod as their new bassist. The reunion lineup recorded and released a self-titled album in 2003, which was critically praised and became the most successful album Voivod had released in years. In 2004, the band returned to the studio to record their second post-reunion album; however, Piggy died of colon cancer on August 26, 2005 before the new album could come to fruition. Its resulting album, Katorz, arrived a year later, but Voivod did not tour in support of it as they were not comfortable enough to find an immediate replacement for Piggy.

In early 2008 Voivod selected Daniel Mongrain as Piggy's onstage replacement and returned to playing live. Blacky would return for tours in 2008, 2009 and 2010, but Jason Newsted was still considered the band's permanent bassist. As of 2012, Jason is apparently no longer in Voivod.

Voivod are named after a fictional character, created by Michel Langevin, according to whom, he is "an antihero, a vampire lord in a post-nuclear age, immortal and unstoppable. [His] story is being told in seven parts, covering our first five albums, from "War and Pain" to "Nothingface. We resumed the concept on "Phobos". We demoed the last chapter, but we have no plans at all to turn those into a proper album. Yet."