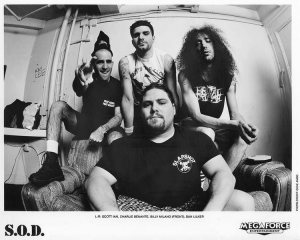 Stormtroopers of Death
Dan Lilker

:

Bass

(1985-1986, 1992, 1997-2002)

Charlie Benante

:

Drums

(1985-1986, 1992, 1997-2002)

Scott Ian

:

Guitars

(1985-1986, 1992, 1997-2002)

Billy "Mosh" Milano

:

Vocals

(1985-1986, 1992, 1997-2002)
Releases : 1 Total votes : 0 Reviews : 0
Added by

SludgeLeader
Stormtroopers of Death Discography
Album title
Lyrics
Type
Released
Rating
Votes
Reviews

Milk

(2015)

Split

2015-11-27

-
0
0
Additional notes
S.O.D. was created by Anthrax's guitarist, Scott Ian, as a side project for his crossover ideas. During a tour with Anthrax, the band was stranded for a while and Scott started drawing sketches of what is now known as Sargeant D. Then, when recording "Spreading the Disease" with Anthrax, Dan, Scott and Charlie were bored in the studio while waiting for the end result of that album, so they started playing random riffs mostly inspired by hardcore bands like Agnostic Front. Later, with Scott knowing Billy, he asked him if he would like him to sing for the band. At the time, Billy was apart of the hardcore band The Psychos and played bass. He tried out for singing and his first time ironically singing was in the studio recording "Speak English or Die."

While the band is highly regarded as one of the first "crossover" bands in metal and hardcore punk, the band has suffered huge amounts of criticism from the media for their very offensive humor, and also other bands within the hardcore punk community, ranging from Sore Throat, Extreme Noise Terror and so on for being a "unorthodox" style hardcore band because of all the fame they've received from being a hardcore band.

Billy Milano went on to create M.O.D. (Methods of Destruction) after S.O.D. disbanded.

Billy Milano was previously a roadie for Anthrax.

On 24 December of 2012 Milano and Lilker reformed the band under the name of United Forces, with drummer Nicholas Barker and guitarist Anton Reisenegger.