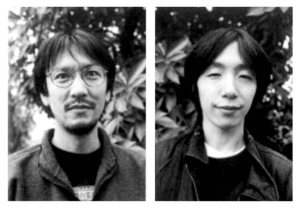 Ruins
a.k.a.
ルインズ
Country

Japan

Formed
1985,

Tōkyō, Tōkyō

Genres

Experimental Rock

,

Avant-Prog

,

Math Rock

,

Zeuhl

,

Free Improvisation

,

Noise Rock

,

Progressive Rock

Labels
Ipecac Recordings, Tzadik, Skin Graft, Magaibutsu Limited
吉田達也 [Tatsuya Yoshida]

:

Drums, Vocals
Kawamoto Hideki

:

Bass

(1985-1987)

Kimoto Kazuyoshi

:

Bass

(1987-1990)

Masuda Ryuichi

:

Bass

(1991-1994)

Sasaki Hisashi

:

Bass

(1995-2004)
Releases : 18 Total votes : 0 Reviews : 0
Added by

Pop-Tarts
Additional notes
Artist Biography by John Vallier

Ruins plays a unique form of manic and twisted progressive rock for these millennial times. Ruins' compositions are complex and can be disorienting to any listener who is accustomed to less innovative, dynamic, and demanding musics. Drummer/vocalist Tatsuya Yoshida, the founding member of Ruins, formed the band in 1985. Since that time, there have been a number of different bass players, including Kawamoto Hideki, Kimoto Kazuyoshi, Ryuichi Masuda, and Hisashi Sasaki. Bandleader/drummer/singer Yoshida credits such diverse influences as progressive rock stalwarts Magma, classical composers such as Chopin, and traditional throat singing from Tuva. Though hints of these and other influences (e.g., Bill Bruford, Rush, Pink Floyd, Gong, King Crimson, Yes, and Genesis) often come through in the Ruins sound, there is no mistaking Ruins for anyone else. Many Ruins compositions employ odd time signatures, sudden tempo changes, and passages of heavily processed noise. The bass, which unlike most has six strings, is often threaded through various effects. Vocables are meant to be nonsensical (and that's how they sound) and are usually improvised, as are portions of the songs. The overall sound is chaotic yet precise, noisy yet harmonious, catchy yet repelling, frenetic yet disciplined.

Stonehenge As if the demands of Ruins were not enough, Yoshida keeps himself busy with various other musical projects (e.g., Koenji Hyakkei, Korekyojinn, and Daimonji). From time to time, Ruins has collaborated with others, including saxophonist/producer John Zorn, Fushitsusha noise guitarist Keiji Haino, keyboardist Kenichi Oguchi, vocalists Eleonola Emi and Aki Kubota, acrobatic punkers Schlong, avant-proggers Guapo, Kazutoki Umezu, producer Steve Albini, and guitarists Derek Bailey and Jason Willet. Ruins has many releases in the form of singles, collaborations, and full-length CDs. Among the full-length albums are Stonehenge (1990), Burning Stone (1992), Refusal Fossil (1997), and Symphonica (1998). Pallaschtom followed, comprised of three tracks: a classical music medley, a hard rock medley, and a progressive rock medley. Critically celebrated, Ruins found time to release a compilation of rarities, titled 1986-1992, in the spring of 2002. Several months later, Tzomborgha appeared. After the departure of fourth bassist Hisashi Sasaki, Tatsuya Yoshida forged on with Ruins as a solo act, performing live as Ruins Alone and releasing the album Alone in 2011.