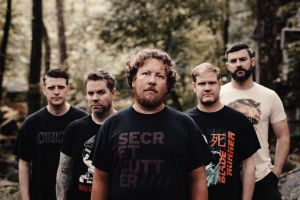 Pig Destroyer
J.R. Hayes

:

Vocals

(1997-present)

Scott Hull

:

Guitars

(1997-present)

John Jarvis

:

Bass

(2013-present)

Adam Jarvis

:

Drums

(2011-present)

Blake Harrison

:

Synthesizer, Samples

(2006-present)
John Evans

:

Drums

(1997-1998)

Brian Harvey

:

Drums

(1998-2011)
Releases : 14 Total votes : 0 Reviews : 0
Added by

SludgeLeader
Last edited by

SludgeLeader
Pig Destroyer Discography
Additional notes
Pig Destroyer was formed by guitarist Scott Hull aside from his other major grindcore band Agoraphobic Nosebleed. The reason for forming Pig Destroyer is to bring back what "grindcore should be".

The explanation behind the name of the band was a story in which the members were waiting in line to go on a roller coaster when they were thinking of the "most absurd punk rock name they could come imagine." They thought of Cop Killer and Cop Destroyer, but then thought of Pig Destroyer; a less-obvious name than the other two. At the time they were more political and it made the most sense to them, but now they claim it's just the name of the band.

For a very long period of time, Pig Destroyer never had a bass player, nor did they use bass in their music. They went without a bass player in their entire career up until October of 2013 where John Jarvis was incepted into the band. Before 2013, the only ever exception was the recording of a live gig with a bass player for the bonus part of their song "Terrifyer".

Contrary to popular belief, Scott Hull did not collaborate with Tribes of Neurot on the album "Static Migration" under the pseudonym "Walking Time Bombs", this pseudonym was used by Pain Teens guitarist Scott Ayers.