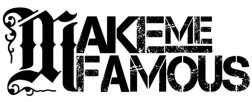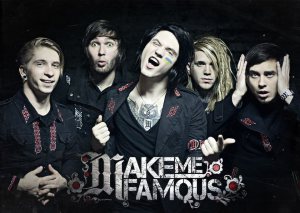 Make Me Famous
Denis Shaforostov

:

Vocals

(clean)

, Vocals

(scream)

, Guitar

(lead)

, Synthesizers, Programming

(2009-12)

Serj Kravchenko

:

Vocals

(growl)

, Vocals

(clean)

(2010-12)

Sergei Hohlov

:

Bass, Vocals

(backup)

(2010-12)

Igor "Jimmy Rose" Yastrebov

:

Guitar

(rhythm)

(2010-12)

Dusty Boles

:

Drums

(2011-12)
Jace Thomas

:

Drums

(2010-11)
Releases : 3 Total votes : 0 Reviews : 0
Added by

Angelbeats
Last edited by

Angelbeats
Make Me Famous Discography
Additional notes
At the end of November 2012, founding member and frontman Denis Shaforostov was kicked out of Make Me Famous by his own band members. The rest of the band moved on without Denis and played their last few shows as Make Me Famous. Make Me Famous was then dropped from Sumerian Records as a result of Denis being ejected from the band.
Before the band broke they started playing a new song live called "Locked & Loaded"
The remaining members promised to return with a new band. They created a new band called "Oceans Red". After Denis' departure, he joined a band called At The Ruins who upon his arrival were renamed Down & Dirty. Stas Belov, mainwriter of At The Ruins, left Down And Dirty because of the arrival of Denis. He subsequently brought At The Ruins back and released an instrumental for a new song.
According to Denis, the unreleased Make Me Famous Song "Locked And Loaded" will be released on the upcoming Down And Dirty Debut Album.