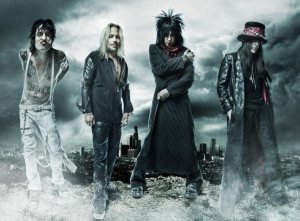 Mötley Crüe
Vince Neil

:

Vocals

(1981-1992, 1997-)

Mick Mars

:

Guitars

(1981-)

Nikki Sixx

:

Bass, Vocals

(1981-)

Tommy Lee

:

Drums, Vocals, Piano

(1981-1998, 2004-2007, 2008-)
Robin

:

Guitars

(1981)

Greg Leon

:

Guitars

(1981)

O'Dean

:

Vocals

(1981)

John Corabi

:

Lead Vocals, Rhythm Guitar

(1992-1997)

Randy Castillo

:

Drums

(1999-2000)

(R.I.P. 2002)
Additional notes
Mötley Crüe was founded by bassist Nikki Sixx and drummer Tommy Lee. They later asked Mick Mars to provide guitars and Vince Neil to provide vocals.

Mötley Crüe was ranked tenth on MTV's list "Top 10 Heavy Metal Bands of All-Time" and ninth on "VH1's All Time Top Ten Metal Bands".

Mötley Crüe have sold over 75 million albums.