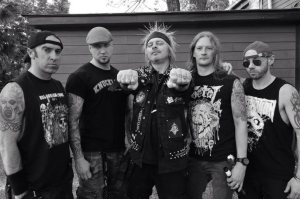 Extreme Noise Terror
Dean Jones

:

Vocals

(1985-)

Ollie Jones

:

Guitars

(2002-)

Michael Hourihan

:

Drums

(2007-2010, 2015-)

Andi Morris

:

Bass

(2012-)

Ben McCrow

:

Vocals

(2014-)
Pete Nash

:

Bass

José Kurt

:

Vocals

Jerry Clay

:

Bass

(1985-1988)

Pig Killer

:

Drums

(1985-1987, 1993-1995)

Pete Hurley

:

Guitars

(1985-1995)

(R.I.P. 2014)

Phil Vane

:

Vocals

(1985-1995, 1997-1999, 2006-2011)

(R.I.P. 2011)

Mick Harris

:

Drums

(1987-1988)

Mark Gardiner

:

Bass

(1988-1990)

Tony "Stick" Dickens

:

Drums

(1988-1995)

Spit

:

Vocals

(1989)

Mark Bailey

:

Bass

(1990-1993)

Lee Barrett

:

Bass

(1993-1997)

William A. "Was" Sarginson

:

Drums

(1995-1997)

Ali Firouzbahkt

:

Guitars

(1995-2005)

Mark "Barney" Greenway

:

Vocals

(1995-1997)

Manny Cooke

:

Bass

(1997-2001)

Zac O'Neil

:

Drums

(1997-2007, 2010-2011)

Adam Catchpole

:

Vocals

(2000-2006)

Stafford Glover

:

Bass

(2001-2012)

Woodie

:

Guitars

(2001-2010, 2011-2014)

Michael Hourihan

:

Drums

(2007-2010)

Chris Casket

:

Guitars

(2010-2011)

Barney Monger

:

Drums

(2011-2014)

Roman "The Plague" Matuszewski

:

Vocals

(2011-2012)

John Loughin

:

Vocals

(2012-2014)
Releases : 10 Total votes : 0 Reviews : 0
Added by

SludgeLeader
Last edited by

SludgeLeader
Extreme Noise Terror Discography
Additional notes
Originally known as Raw Noise, the band was one of the first to play an aggressive style crust punk. This crust punk would later be known as grindcore, but Extreme Noise Terror never really played pure grindcore. They were highly influential, spawning countless crustcore bands to be born.

Eventually, the band internalized many extreme metal forms and played a grindcore-laden death metal very much in the vein of mid-Napalm Death. They continue to play in this death metal style while still gaining the respect of punkers alike.

The band appeared on the 1991 compilation CD "Emergency Express III: Declare A State Of Emergency", together with bands like Gilt Face, Rosenfeld, Bellzlleb, Yasha, LawShed, The Wretched and Shellshock.