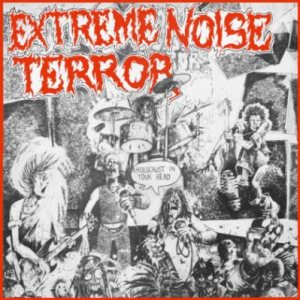 A Holocaust in Your Head
| | |
| --- | --- |
| Artist | |
| Type | Studio Full-length |
| Released | 1989 |
| Genres | Crustgrind |
| Labels | Head Eruption |
| Length | 25:44 |
Reviews : 0
Comments : 0
Total votes : 0
Rating : -
Have : 0
Want : 0
Added by

SludgeLeader
A Holocaust in Your Head Information
| | Title | Length | Rating | Votes |
| --- | --- | --- | --- | --- |
| 1. | Statement | 2:12 | - | 0 |
| 2. | Deceived | 2:09 | - | 0 |
| 3. | Take the Strain | 1:44 | - | 0 |
| 4. | Conned Thru Life | 1:50 | - | 0 |
| 5. | We the Helpless | 0:59 | - | 0 |
| 6. | Show Us You Care | 3:07 | - | 0 |
| 7. | Innocence to Ignorance | 1:33 | - | 0 |
| 8. | Use Your Mind | 2:11 | - | 0 |
| 9. | Murder | 2:19 | - | 0 |
| 10. | Another Nail in the Coffin | 1:43 | - | 0 |
| 11. | Raping the Earth | 1:30 | - | 0 |
| 12. | Bullshit Propaganda | 2:16 | - | 0 |
| 13. | If Your Only in It for the Music (S.O.D. Off!) | 2:11 | - | 0 |
Dean Jones

:

Vocals

Phil Vane

:

Vocals

Pete Hurley

:

Guitars, Bass, Vocals

Mark Gardiner

:

Bass

Tony "Stick" Dickens

:

Drums
Production staff / artist
Additional notes
Recorded on November 18th-20th, 1988 at Birdsong Studios in Worcester, United Kingdom.

Japanese edition include bonus tracks:
5. Fucked Up System (1:54)
6. No Threat (1:07)

Remastered version released on April 27, 2010 by Farewell Records include 2 colors, hand numbered copies.
Limited to:
- 350 copies on black vinyl
- 150 hand numbered copies on red/black marble vinyl with an additional silk-screened sleeve. The silk-screened sleeve is printed on blue, red, green, yellow, bordeaux, gold, or silver cardboard.
Extreme Noise Terror Discography