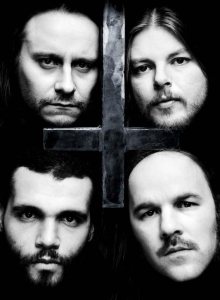 Entombed
Alex Hellid

:

Guitars

(1989-2014)
David Blomqvist

:

Bass

(1989)

Nicke Andersson

:

Drums

(1989-1997)

Ulf "Uffe" Cederlund

:

Guitars

(1989-2005)

L-G Petrov

:

Vocals

(1989-1991, 1992-2014)

Lars Rosenberg

:

Bass

(1990-1995)

Johnny Dordevic

:

Vocals

(1991-1992)

Jörgen Sandström

:

Bass

(1997-2004)

Peter Stjärnvind

:

Drums

(1997-2006)

Nico Elgstrand

:

Bass

(2004-2010)

, Guitars

(2010-2014)

Olle Dahlstedt

:

Drums

(2006-2014)

Victor Brandt

:

Bass

(2010-2014)
Releases : 12 Total votes : 0 Reviews : 0
Added by

Eagles
Last edited by

realemopolice
Additional notes
Formed as Nihilist in 1987, became Entombed in 1989.

L-G Petrov recorded an album which was intended to be released in the fall of 2013. However, it was delayed apparently because of a name dispute. In January 2014 it was announced that "Back to the Front" would be released under the moniker Entombed A.D. and that Petrov wouldn't perform with Entombed. Nicke Andersson isn't mentioned in the "Clandestine" concert information either.

According to an interview in Sweden Rock Magazine #3 / 2014, with L-G and Nico, the name Entombed is now owned by all four original members, Alex Hellid, L-G Petrov, Uffe Cederlund and Nicke Andersson and is not to be used until further notice.