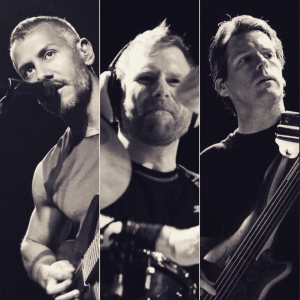 Cynic
Sean Reinert

:

Drums, Keyboards

(1987-1994, 2006-2015)

Paul Masvidal

:

Vocals, Guitars, Vocoder Vocals, Guitar Synth

(1987-1994, 2006-2015)

Sean Malone

:

Bass, Chapman Stick

(1993-1994, 2008-2015)
Mark van Erp

:

Bass

(1987-1989)

Russell Mofsky

:

Guitars

(1987)

Esteban "Steve" Rincon

:

Vocals

(1987)

Jack Kelly

:

Vocals

(1987-1988)

Jason Gobel

:

Guitars, Keyboards

(1988-1994)

Tony Choy

:

Bass

(1989-1993)

Chris Kringel

:

Bass

(1993-1994)

Tony Teegarden

:

Vocals

(growls)

, Keyboards

(1993-1994, 2006-2007)

Santiago Dobles

:

Guitars

(2006-2007)

Robin Zielhorst

:

Bass

(fretless)

(2008-2010)

Tymon Kruidenier

:

Guitars, Vocals

(growls)

, Guitar Synth

(2008-2010)
Releases : 6 Total votes : 0 Reviews : 0
Added by

Eagles
Last edited by

SludgeLeader
| | Track title | Album title | Rating | Votes |
| --- | --- | --- | --- | --- |
| 1 | Veil Of Maya | Focus (1993) | 100 | 1 |
Additional notes
A Cynic is defined by Merriam-Webster as "an adherent of an ancient Greek school of philosophers who held the view that virtue is the only good and that its essence lies in self-control and independence".

In a May 2014 interview, Paul Masvidal and Sean Reinert revealed that they are both gay.

On September 10, 2015, Reinert announced that Cynic broke up once again, due to artistic and personal differences. Later that day, however, Masvidal denied these claims, stating that Cynic will continue "one way or another". A week later, Cynic announced a new incarnation (featuring Paul Masvidal, Sean Malone and Matt Lynch), which made its live debut at the Euroblast festival on October 3, 2015 in Cologne, Germany. This implies that Cynic, as a name an entity, is under dispute.

Also on September 11, 2015, Sean Reinert stated that Cynic was ultimately a 50-50 partnership between him and Masvidal, and so it remains within his right to cut off said partnership as he sees fit.