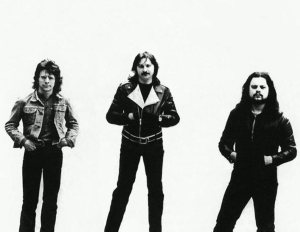 Budgie
Burke Shelley

:

Vocals, Bass

(1967-)

Steve Williams

:

Drums

(1975-1986, 1996-)
Ray Phillips

:

Drums

(1967-1973)

Brian Goddard

:

Guitars

(1967-1969)

Kevin Newton

:

Guitars

(1967-1968)

Tony Bourge

:

Guitars

(1968-1978)

Pete Boot

:

Drums

(1973-1974)

Richard Dunn

:

Keyboards

(1976)

Rob Kendrick

:

Guitars

(1978-1979)

Big John Thomas

:

Guitars

(1979-1988, 1996)

Duncan McKay

:

Keyboards

(1982)

Jim Simpson

:

Drums

(1986-1988)

Robert "Congo" Jones

:

Drums

(1995-1996)

Andy Hart

:

Guitars

(1998-2003)

Simon Lees

:

Guitars

(2003-2007)

Andy James

:

Guitars

(2007-2008)
Releases : 17 Total votes : 4 Reviews : 2
Added by

Eagles
Last edited by

SludgeLeader
Additional notes
Budgie songs have been covered by Metallica (twice), Iron Maiden and Soundgarden.

Formed in 1966 by Burke Shelley and a school friend on guitar. They found drummer Ray Phillips by placing an ad in the local paper. Tony Bourge joined in 1967.

They played a few gigs under the name Hills Contemporary Grass, before changing their name to Six Tonne Budgie, and eventually just Budgie (which is a small parrot).

Signing to MCA Records (UK), they released their debut in 1971, and followed it with one album per year until 1976. After touring the US in 1977, they released "Impeckable", their last album with Tony Bourge. In that same period of time, they did three tours with Judas Priest as their opening act

With new guitarist "Big" John Thomas, Budgie opened for Ozzy Osbourne's first solo UK tour, and toured Poland a good few years before Iron Maiden's much better documented trip "Behind The Iron Curtain".

The band eventually called it quits in 1982, as the members had families and they found their priorities changing.

Burke Shelley reunited with Steve Williams in 1996, but they did not produce an album until "You're All Living in Cuckooland" in 2006.

Budgie's November 2010 tour of Eastern Europe had to be cancelled as Shelley was hospitalised on 9 November in Wejherowo, Poland, with a 6 cm aortic aneurism. After surgery, he returned to Britain for recovery. Since then the band halted any activities, as Shelley's health cannot endure a "two hour concert".

The reformed band is now based in San Antonio, Texas.

Also of interest to Budgie fans is a compilation called Ex Budgie: Budgie & Beyond. It features 18 tracks from bands featuring former Budgie members, including Tredegar, Bombshell, Freez, Titus Oats, and Six Ton Budgie. It was released through the Budgie fan magazine.