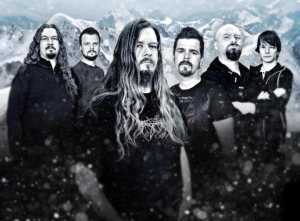 Borknagar
Øystein Garnes Brun

:

Guitars

(1995-)

Jens F. Ryland

:

Guitars

(1997-2003, 2007-)

ICS Vortex

:

Vocals, Bass

(1997-2000, 2010-)

Lazare

:

Keyboards, Backing Vocals

(1999-)

Vintersorg

:

Vocals

(2000-)

Baard Kolstad

:

Drums

(2012-)
Infernus

:

Bass

(1995-1996)

Grim

:

Drums

(1995-1998)

(R.I.P. 1999)

Ivar Bjørnson

:

Keyboards

(1995-1998)

Garm

:

Vocals

(1995-1997)

Kai K. Lie

:

Bass

(1996-1998)

Asgeir Mickelson

:

Drums

(1999-2008)

, Bass

(2004)

Tyr

:

Bass

(2000-2003, 2006-2010)

David Kinkade

:

Drums

(2008-2011)
Releases : 9 Total votes : 0 Reviews : 0
Added by

Eagles
Last edited by

SludgeLeader
Additional notes
Formed by Øystein Garnes Brun in 1995 as an outlet to create more melodic music and to push the boundaries of "traditional" black metal after growing tired of the simple brutality of his previous band Molested. The band did not record a demo; once Øystein established the first line up, they were offered a contract with Malicious Records pretty much straight away.

With their debut, self-titled album, the band began as a melodic Viking/black metal outfit, but with The Olden Domain and all albums following it, an evolution of a more progressive approach to Viking-themed metal began to appear, made official by Vintersorg's acquiring of the vocal duties in his trademark manner.

Øystein G. Brun has stated in interviews that the band name has no specific meaning, but is inspired by the name of Scottish mountain Lochnagar.

Øystein G. Brun and Vintersorg together have formed a band called Cronian (which was formerly known as Ion).