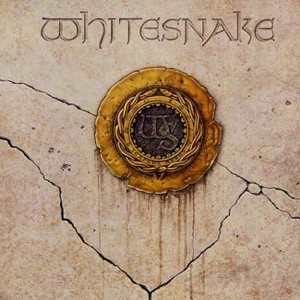 Whitesnake [aka 1987] Information
| | Title | Length | Rating | Votes |
| --- | --- | --- | --- | --- |
| 1. | Still of the Night | 6:38 | 95 | 1 |
| 2. | Bad Boys | 4:07 | 90 | 1 |
| 3. | Give Me All Your Love | 3:30 | 90 | 1 |
| 4. | Looking for Love | 6:33 | 95 | 1 |
| 5. | Crying in the Rain | 5:35 | 100 | 1 |
| 6. | Is This Love | 4:42 | 95 | 1 |
| 7. | Straight for the Heart | 3:37 | 85 | 1 |
| 8. | Don't Turn Away | 5:08 | 85 | 1 |
| 9. | Children of the Night | 4:22 | 90 | 1 |
| 10. | Here I Go Again | 4:34 | 95 | 1 |
| 11. | You're Gonna Break My Heart Again | 4:11 | 85 | 1 |
David Coverdale

:

Vocals, Songwriting (all tracks)

John Sykes

:

Guitars, Backing Vocals, Songwriting (tracks 1-4, 6-9, 11)

Neil Murray

:

Bass

Aynsley Dunbar

:

Drums, Percussion
Guest / session musicians
Bernie Marsden

:

Songwriting (track 10)

Adrian Vandenberg

:

Guitar Solo (track 10)

Don Airey

:

Keyboards

Bill Cuomo

:

Keyboards
Production staff / artist
Mike Stone

:

Producer

Keith Olsen

:

Producer, Engineer

Greg Fulginiti

:

Mastering Engineer

Hugh Syme

:

Cover Art
Additional notes
North American version track listing :
1. Crying in the Rain (5:37)
2. Bad Boys (4:09)
3. Still of the Night (6:38)
4. Here I Go Again (4:33)
5. Give Me All Your Love (3:30)
6. Is This Love (4:43)
7. Children of the Night (4:24)
8. Straight for the Heart (3:40)
9. Don't Turn Away (5:11)
Whitesnake [aka 1987] Reviews
Reviewer :

LORDOSOLIVAIS
(

75

/

100

)
In 1987, hair metal dominated the charts. It was huge. Bands like Motley Crue and Def Leppard kick-started the trend, and countless bands followed. Some bands (like black metal titans Celtic Frost) changed their styles to hair metal just to be popular and make money. And one of the bands was Whitesnake.
Whitesnake's David Coverdale always wanted to be the next Robert Plant, there was no doubt about that. His voice emulated the Led Zeppelin vocalist, and even his hair did too. Whitesnake began as a bluesy hard rock band (like Led Zeppelin) but when hair metal was the thing to do, Coverdale jumped all over it and released Whitesnake's self-titled album. It was a success. I mean, the lead single had a hot chick in the video! It had to be huge! But the music was pretty terrible.
Reviewer :

Eagles
(

90

/

100

)
미주지역에는 Whitesnake의 타이틀로 발매된 통산 10집앨범의 유럽반으로 미주반과 수록곡의 순서가 약간 차이가 나며 2곡이 추가로 들어있다. Ian Gillan의 뒤를 이어 Deep Purple에서 크게 활약한 David Coverdale이 1977년 런던에서 조직한 밴드로 John Sykes, Steve Vai, Jon Lord, Don Airey, Neil Murray등의 명플레이어들이 함께 하였다. 전작 Slide It In에서부터 호흡을 맞춘 David Coverdale과 John Sykes의 불꽃튀는 명연을 들을 수 있는 본작은 대중적으로도 폭발적인 인기를 구가하며 최전성기를 구가하였는데, 브리티쉬 헤비메틀적인 작법을 바탕으로한 메틀넘버와 애상적인 발라드풍의 곡을 적절히 배합하며 명성과 인기를 모두 손에 쥐었다. 특히 주목할만한 부분은 John Sykes의 기타플레이로, 고감도 필의 메틀기타의 진수를 들을 수 있다.

Best Track : Looking For Love , Crying In The Rain , Is This Love , Here I Go Again
Whitesnake [aka 1987] Comments

Up The Irons!
(95/100)
이렇게 팝적이면서도 헤비(메탈릭)하고 Is This Love같이 좋은 발라드를 가진 앨범을 본적이 없다.