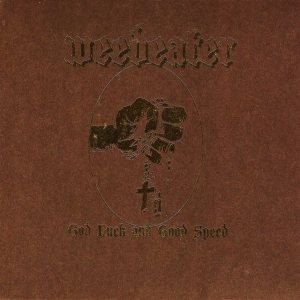 God Luck and Good Speed
Reviews : 0
Comments : 0
Total votes : 0
Rating : -
Have : 0
Want : 0
Added by

SludgeLeader
God Luck and Good Speed Information
| | Title | Length | Rating | Votes |
| --- | --- | --- | --- | --- |
| 1. | God Luck and Good Speed | 4:25 | - | 0 |
| 2. | Wizard Fight | 2:18 | - | 0 |
| 3. | For Evan's Sake | 7:08 | - | 0 |
| 4. | Alone | 2:14 | - | 0 |
| 5. | $20 Peanut | 2:56 | - | 0 |
| 6. | Dirt Merchant | 5:12 | - | 0 |
| 7. | Gimme Back My Bullets | 4:15 | - | 0 |
| 8. | Weed Monkey | 7:28 | - | 0 |
| 9. | Willow | 2:57 | - | 0 |
"Dixie" Dave Collins

:

Vocals, Bass

Dave Shepherd

:

Guitars

Keith Kirkum

:

Drums
Guest / session musicians
Mike Dean

:

Banjo (Track 4)
Production staff / artist
Mike Dean

:

Engineering, Mastering, Producer (Track 4)

John Golden

:

Mastering (Tracks 1-3 & 5-9)

Dave Shepherd

:

Producer (Tracks 1-3 & 5-9)

Keith Kirkum

:

Producer (Tracks 1-3 & 5-9)

"Dixie" Dave Collins

:

Engineering, Producer (Tracks 1-3 & 5-9)

Steve Albini

:

Engineering, Producer (Tracks 1-3 & 5-9)

Arik Moonhawk Roper

:

Artwork
Additional notes
Recorded and mixed at Electrical Audio, Chicago, 4 days in late January 2007.
Tracks 1-3, 5-9 produced by Weedeater. Track #7, "Gimme Back My Bullets", is a Lynyrd Skynyrd cover.

Released by Southern Lord Recordings on cardboard sleeve CD (left), digipack sleeve CD (center) and limited edition gatefold vinyl (Cat. # for all sunn82). Vinyl edition comes with mini-pamphlet entitled 'Hymnal', limited to 1500 copies: 1000 on black vinyl, 500 on gold vinyl (mailorders only), released in 2009, April, 28.

In cardboard CD version track 6 is called "It Is What It Is", in digipack CD version - "Dirt Merchant".

Reissued again on CD through Season of Mist in January 2015.