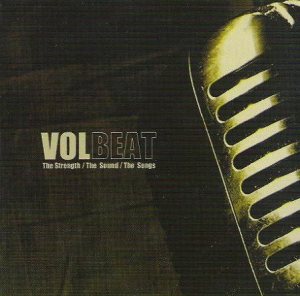 The Strength / the Sound / the Songs
Artist
Type
Studio Full-length
Released

2005-09-26

Genres

Heavy Metal

,

Hard Rock

Labels
Mascot Records
Length
55:03
Reviews : 0
Comments : 0
Total votes : 0
Rating : -
Have : 0
Want : 0
Added by

SludgeLeader
The Strength / the Sound / the Songs Information
| | Title | Length | Rating | Votes |
| --- | --- | --- | --- | --- |
| 1. | Caroline Leaving (Caroline part Two) | 3:14 | - | 0 |
| 2. | Another Day, Another Way | 3:03 | - | 0 |
| 3. | Something Else Or... | 4:08 | - | 0 |
| 4. | Rebel Monster | 2:54 | - | 0 |
| 5. | Pool of Booze, Booze, Booza | 3:38 | - | 0 |
| 6. | Always. Wu | 2:33 | - | 0 |
| 7. | Say Your Number | 4:42 | - | 0 |
| 8. | Soulweeper | 3:39 | - | 0 |
| 9. | Firesong (Danny & Lucy revisited) | 4:20 | - | 0 |
| 10. | Danny & Lucy (11 pm) | 2:51 | - | 0 |
| 11. | Caroline #1 | 4:13 | - | 0 |
| 12. | Alienized | 4:07 | - | 0 |
| 13. | I Only Wanna Be with You (Dusty Springfield cover) | 2:44 | - | 0 |
| 14. | Everything's Still Fine | 3:20 | - | 0 |
| 15. | Healing Subconsciously | 5:37 | - | 0 |
Michael Poulsen

:

Guitars, Vocals

Franz Hellboss

:

Guitars

Anders Kjølholm

:

Bass

Jon Larsen

:

Drums
Production staff / artist
Jacob Hansen

:

Recording, Mixing
Additional notes
Recorded and mixed by Jacob Hansen at Hansen studios during August 2003 and 17-28 July 2004.
(The songs from 'Beat The Meat' in August '03, the rest in July '04)

Should have been released worldwide on the 1st of November 2004 through Karmageddon Media, but the cd was postponed for 2005.

Tracks 2, 5, 8, 10 and 12 are also on the 'Beat The Meat' demo (2003). These are the exact same recordings, according to the band's recording dates for this album. Some of the titles were changed a bit:
'Another Day, Another Way' was 'Another Day'.
'Pool of Booze, Booze, Booza' was 'Pool of Booze'.
'Danny & Lucy (11 pm)' didn't have the '(11 pm)' part.
'Alienized' and 'Soulsweeper' kept the exact same titles.

Tracks 3, 6, 11 and 14 are re-recordings from tracks from the 2002 demo. The titles were changed a bit:
'Always.Wu' was 'Always'.
'Something Else Or...' was 'Something Else'.
'Everything's Still Fine' was 'Everything is Fine'.
'Caroline #1' was 'Caroline'.

Also released on vinyl.

Re-released in the US on Mascot Records in 2009.