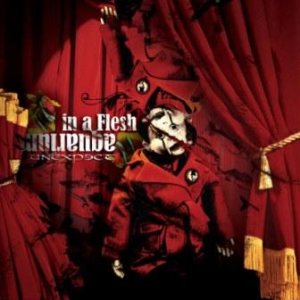 In A Flesh Aquarium
| | |
| --- | --- |
| Artist | |
| Type | Studio Full-length |
| Released | 2006-08-22 |
| Genres | Avant-garde Metal |
| Labels | The End Records |
| Length | 1:00:36 |
Reviews : 0
Comments : 0
Total votes : 0
Rating : -
Have : 0
Want : 0
Added by

Eagles
In A Flesh Aquarium Information
| | Title | Length | Rating | Votes |
| --- | --- | --- | --- | --- |
| 1. | Chromatic Chimera | 5:52 | - | 0 |
| 2. | Feasting Fools | 6:17 | - | 0 |
| 3. | Desert Urbania | 7:29 | - | 0 |
| 4. | Summoning Scenes | 7:46 | - | 0 |
| 5. | Silence_011010701 | 5:13 | - | 0 |
| 6. | Megalomaniac Trees | 5:57 | - | 0 |
| 7. | The Shiver - Another Dissonant Chord | 3:00 | - | 0 |
| 8. | The Shiver - Meet Me at the Carrousel | 4:07 | - | 0 |
| 9. | The Shiver - A Clown's Mindtrap | 3:41 | - | 0 |
| 10. | Psychic Jugglers | 11:10 | - | 0 |
Leilindel

:

Vocals

Syriak

:

Guitars & Vocals

Artagoth

:

Guitars & Vocals

ChaotH

:

Bass

Landryx

:

Drums

ExoD (Lunorin)

:

Keyboards

Le Bateleur

:

Violin
Additional notes
Cat. nr. ASC23002

Chromatic Chimera is actually the result of a keyboard/sampling instrumental
from the we_Invaders EP transformed into a full song.

The track titled "The Shiver - Another Dissonant Chord" was written in
Hungarian.

Track 7 is titled The Shiver - Another Dissonant Chord while track 9 is The
Shiver - A Clown's Mindtrap. It is listed wrong on the official site but the
lyrics and back cover show the correct track listing.

Re-released by Ascendance Records in 2007 with _wE, invaders as a bonus CD. _wE,
invaders also featured a new track called Puppet's Strange Vision (7:47) as a
new fifth track.

The re-released 2CD edition comes in slipcase.