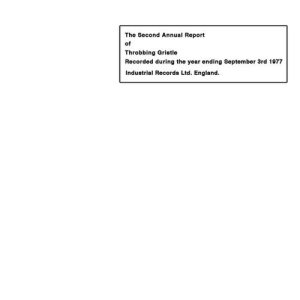 The Second Annual Report
Reviews : 0
Comments : 0
Total votes : 0
Rating : -
Have : 0
Want : 0
Added by

SludgeLeader
The Second Annual Report Information
| | Title | Length | Rating | Votes |
| --- | --- | --- | --- | --- |
| 1. | Industrial Introduction | 1:04 | - | 0 |
| 2. | Slug Bait - ICA | 4:20 | - | 0 |
| 3. | Slug Bait - Live At Southampton | 2:45 | - | 0 |
| 4. | Slug Bait - Live At Brighton | 1:10 | - | 0 |
| 5. | Maggot Death - Live At Rat Club | 2:59 | - | 0 |
| 6. | Maggot Death - Studio | 4:34 | - | 0 |
| 7. | Maggot Death - Southampton | 1:37 | - | 0 |
| 8. | Maggot Death - Brighton | 0:57 | - | 0 |
| 9. | After Cease To Exist - The Original Soundtrack Of The Coum Transmissions Film | 20:19 | - | 0 |
Cosey Fanni Tutti

:

Guitars, Cornet, Vocals

Genesis P-Orridge

:

Bass, Violin, Vocals, Vibraphone

Peter "Sleazy" Christopherson

:

Tapes, Found Sounds, Horns, Piano, Vibraphone, Synthesizer

Chris Carter

:

Synthesizers, Tapes, Electronics
Additional notes
Released as a limited edition of 785 copies.

Center labels are white with Death Factory Industrial Logo. Covers are plain white with small self adhesive sticker in top right hand corner on front; large sticker with sleeve notes stuck in center on back. Enclosed is a small black and white sticker saying "Nothing Short Of A Total War", a red and black TG lightning flash sticker and a Xerox strip warning about the shortcomings of this pressing.

"One side of this record has been assembled from tapes made at four out of the five live occasions and at the studio of Industrial Records in London. Side Two consists of the entire original movie soundtrack of a film produced by Coum Transmissions called 'After Cease To Exist' premiered in Arnhem, Holland in July 1977 which Throbbing Gristle were invited to score and perform. It was recorded at the Industrial Records studio.

All recordings were made in one take without any overdubs or any recording treatment other than standard playing procedures that we employ. Within the limitations of the recording techniques used the sound on this record is exactly as it was heard at the moment of its production."
Throbbing Gristle Discography