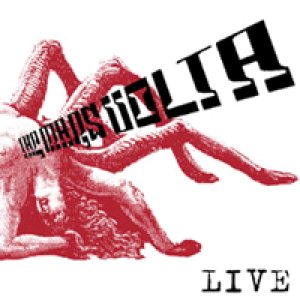 Live
Reviews : 0
Comments : 0
Total votes : 0
Rating : -
Have : 0
Want : 0
Added by

Zyklus
| | Title | Length | Rating | Votes |
| --- | --- | --- | --- | --- |
| 1. | Roulette Dares (The Haunt of) | 9:29 | - | 0 |
| 2. | Drunkship of Lanterns | 9:38 | - | 0 |
| 3. | Cicatriz ESP | 16:03 | - | 0 |
| 4. | Televators | 7:18 | - | 0 |
Additional notes
Live is the first officially released live recording from the band The Mars Volta. The EP was released in limited quantities in 2003 and is now difficult to find. Due to this, the EP has become a collectors item among fans, sometimes selling for up to $150 on eBay. The first two tracks were recorded live at the XFM Studio in London, 2003. The last two tracks were recorded at the Electric Ballroom in London on July 9, 2003.
The jam in "Drunkship of Lanterns" later became part of "Cygnus...Vismund Cygnus" from Frances the Mute.
The album artwork is from the fable of Arachne (also Arachné). It has also been used as the backdrop during the band's live performances.
The Mars Volta Discography