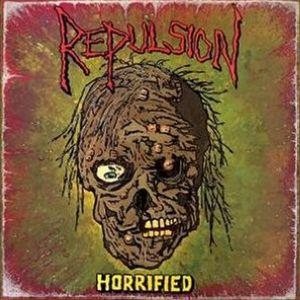 Horrified
Artist
Type
Studio Full-length
Released

1989-05-29

Genres

Grindcore

,

Death Metal

Labels
Necrosis
Length
29:18
Reviews : 0
Comments : 0
Total votes : 0
Rating : -
Have : 0
Want : 0
Added by

dugas
Last edited by

SludgeLeader
| | Title | Length | Rating | Votes |
| --- | --- | --- | --- | --- |
| 1. | The Stench of Burning Death | 1:34 | - | 0 |
| 2. | Eaten Alive | 1:39 | - | 0 |
| 3. | Acid Bath | 1:31 | - | 0 |
| 4. | Slaughter of the Innocent | 1:33 | - | 0 |
| 5. | Decomposed | 1:22 | - | 0 |
| 6. | Radiation Sickness | 2:05 | - | 0 |
| 7. | Splattered Cadavers | 1:26 | - | 0 |
| 8. | Festering Boils | 1:53 | - | 0 |
| 9. | Pestilent Decay | 1:05 | - | 0 |
| 10. | Crematorium | 1:30 | - | 0 |
| 11. | Driven to Insanity | 1:40 | - | 0 |
| 12. | Six Feet Under | 1:12 | - | 0 |
| 13. | Bodily Dismemberment | 1:46 | - | 0 |
| 14. | Repulsion | 1:46 | - | 0 |
| 15. | The Lurking Fear | 1:10 | - | 0 |
| 16. | Black Breath | 2:17 | - | 0 |
| 17. | Maggots in Your Coffin | 1:46 | - | 0 |
| 18. | Horrified | 2:03 | - | 0 |
Scott Carlson

:

Vocals, Bass

Matt Olivo

:

Guitars

Dave "Grave" Hollingshead

:

Drums

Aaron Freeman

:

Guitars
Production staff / artist
Scott Hull

:

Mastering (2-CD)

Doug Earp

:

Producer

Jonas Berzanskis

:

Remixing (in March '89)

Scott Carlson

:

Remixing (in March '89)

Aaron Freeman

:

Remixing (in March '89)

Jonathan Canady

:

Design (2-CD)
Additional notes
Recorded in June '86 at Silver Tortoise Soundlab, Ann Arbor, MI [demo]; and then remixed in March '89 by Jonas Berzanskis, Scott Carlson and Aaron Freeman, and produced by Doug Earp and Repulsion [Necrosis Records release].

Originally released in 1986 as a demo called Slaughter of the Innocent. It was "officially" released as Horrified on the Necrosis label (owned by members of Carcass and a subdivision of Earache Records) in 1989.

In the song "Decomposed" the word "bitch" is clearly heard instead of the word "girl", which is stated on the booklet.
Album title
Type
Released
Rating
Votes
Reviews
▶

Horrified

(1989)

Studio

1989-05-29

-
0
0