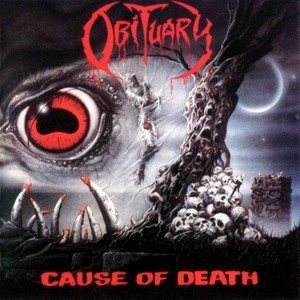 Cause of Death
| | |
| --- | --- |
| Artist | |
| Type | Studio Full-length |
| Released | 1990-09-19 |
| Genres | Death Metal |
| Labels | Roadrunner Records |
| Length | 41:05 |
| Ranked | #19 for 1990 , #1,193 all-time |
Added by

Eagles
Last edited by

SludgeLeader
Cause of Death Information
| | Title | Length | Rating | Votes |
| --- | --- | --- | --- | --- |
| 1. | Infected | 5:34 | 85 | 1 |
| 2. | Body Bag | 5:48 | 80 | 1 |
| 3. | Chopped in Half | 3:43 | 90 | 1 |
| 4. | Circle of the Tyrants (Celtic Frost cover) | 4:24 | 75 | 1 |
| 5. | Dying | 4:29 | 75 | 1 |
| 6. | Find the Arise | 2:49 | 75 | 1 |
| 7. | Cause of Death | 5:38 | 85 | 1 |
| 8. | Memories Remain | 3:44 | 70 | 1 |
| 9. | Turned Inside Out | 4:56 | 80 | 1 |
John Tardy

:

Vocals, Lyrics

James Murphy

:

Lead Guitar

Trevor Peres

:

Rhythm Guitar, Songwriting (tracks 1-3, 5-9)

Frank Watkins

:

Bass

Donald Tardy

:

Drums, Songwriting (tracks 1-3, 5, 6, 8, 9)
Guest / session musicians
Kent Smith

:

Sound Effects
Production staff / artist
Obituary

:

Producer

Carole Segal

:

Photography (back Cover)

Michael R. Whelan

:

Cover Art

Mike Fuller

:

Mastering

Allen West

:

Songwriting (track 7)

Scott Burns

:

Producer, Engineering, Mixing

Shaun Clark

:

Photography

Tim Hubbard

:

Photography

Patricia Mooney

:

Art Direction

Rob Mayworth

:

Design (logo)
Additional notes
Recorded and mixed at Morrisound Studios, Tampa, Florida.

The cover art was supposed to be the cover of Sepultura's album "Beneath the Remains", but Roadrunner Records let Obituary use it first, even though "Cause of Death" was released in 1990, a year after "Beneath the Remains". Sepultura chose another Michael Whelan illustration instead.

The vinyl picture disc edition of Cause of Death includes one bonus track not available elsewhere. It's a new version of "Like the Dead", an old tune from the Xecutioner's days, this track is also featured on the two song demo "Find the Arise". Later both tracks were featured on the Raging Death sampler.

Released by Metal Mind Productions on cassette.
Reviewer :

Eagles
(

70

/

100

)
1985년 Death Metal의 본고장인 미국 플로리다에서 John Tardy, Donald Tardy 형제에 의해 결성된 Obituary의 두 번째 앨범 Cause Of Death으로, 교과서적 의미를 지니는 마스터피스이다. 강력한 디스토션 기타사운드로 무장한 앨범으로 Death, Cancer등을 거친 불세출의 기타리스트 James Murphy의 뛰어난 플레이를 접할 수 있다. 엄청난 수준의 데시벨을 뿜어내는 John Tardy의 포효와 멤버들의 완숙한 연주로 자켓만큼이나 멋진 사운드를 창출하며 고전으로 자리잡았다.

dugas
(100/100)
거친 보컬과, 제임스 머피의 솔로, 적절한 샘플링, 그리고 무거운 기타소리. 이 모든 것이 어둡고 혼돈스런 죽음 그 자체를 완벽히 표현해냈다.