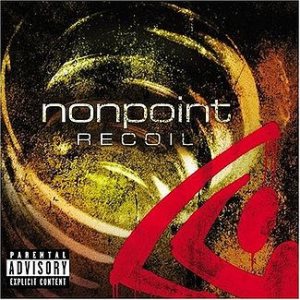 Recoil
Reviews : 0
Comments : 0
Total votes : 0
Rating : -
Have : 0
Want : 0
Added by

PopRock
| | Title | Length | Rating | Votes |
| --- | --- | --- | --- | --- |
| 1. | The Same | 2:58 | - | 0 |
| 2. | The Truth | 4:02 | - | 0 |
| 3. | Broken Bones | 2:53 | - | 0 |
| 4. | Wait | 3:01 | - | 0 |
| 5. | Rabia | 4:16 | - | 0 |
| 6. | Done It Anyway | 3:22 | - | 0 |
| 7. | In the Air Tonight | 4:31 | - | 0 |
| 8. | Move Now | 3:19 | - | 0 |
| 9. | Peace Of Mind | 3:34 | - | 0 |
| 10. | Past It All | 3:43 | - | 0 |
| 11. | Impossible Needs | 3:34 | - | 0 |
| 12. | Side With the Guns | 2:58 | - | 0 |
| 13. | Reward/Past It All (Acoustic Version) | 13:42 | - | 0 |
Production staff / artist
Producer

:

Jason Bieler & Nonpoint
Additional notes
The album also contains 14 tracks if you count the acoustic version of "Past It All" at the end of track 13.
Track 5, "Rabia", translated to mean "Rage", is sung entirely in Spanish, but the lyrics in the disc's booklet are printed in English.
Track 7, "In the Air Tonight", is a cover of the Phil Collins hit song and was featured in the film "Miami Vice" (2006)
Track 13, "Reward", is 4:00 in length, "Past It All", is 3:39 in length. "Past It All" begins 9:54 into track 13. 954 is the telephone area code of Ft. Lauderdale, FL - Nonpoint's home town.