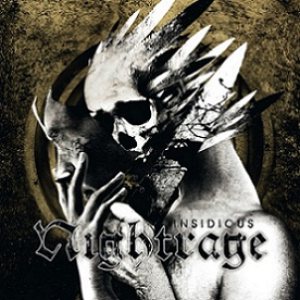 Insidious
| | |
| --- | --- |
| Artist | |
| Type | Studio Full-length |
| Released | 2011-09-26 |
| Genres | Metal |
| Labels | Lifeforce Records |
| Length | 53:13 |
Reviews : 0
Comments : 0
Total votes : 0
Rating : -
Have : 0
Want : 0
Added by

Angelbeats
Last edited by

Angelbeats
| | Title | Length | Rating | Votes |
| --- | --- | --- | --- | --- |
| 1. | So far Away (Intro) | 1:18 | - | 0 |
| 2. | Delirium of the Fallen | 4:14 | - | 0 |
| 3. | Insidious | 3:45 | - | 0 |
| 4. | Wrapped in Deceitful Dreams | 3:52 | - | 0 |
| 5. | Hate Turns Black | 4:32 | - | 0 |
| 6. | Sham Piety | 5:30 | - | 0 |
| 7. | Cloaked in Wolf Skin | 3:22 | - | 0 |
| 8. | This World is Coming to an End | 3:26 | - | 0 |
| 9. | Utmost End of Pain | 4:22 | - | 0 |
| 10. | Poignant Memories | 3:55 | - | 0 |
| 11. | Hush of Night | 3:37 | - | 0 |
| 12. | Poisoned Pawn | 3:57 | - | 0 |
| 13. | Solar Eclipse (Prelude) | 0:35 | - | 0 |
| 14. | Solar Corona | 5:43 | - | 0 |
| 15. | Emblem of light (Outro) | 1:05 | - | 0 |
Marios Iliopoulos

:

Guitars

Anders Hammer

:

Bass

Antony Hämäläinen

:

Vocals

Olof Mörck

:

Guitars

Johan Nunez

:

Drums
Guest / session musicians
John K.

:

Vocals (Tracks 13, 15)

Apollo Papathanasio

:

Vocals (Tracks 2, 8, 16)

Tom Englund

:

Vocals (Tracks 4, 14)

Tomas Lindberg

:

Vocals (Tracks 3, 6, 8)

Gus G.

:

Guitars (Tracks 4, 14)
Production staff / artist
Gustavo Sazes

:

Cover Art

Fredrik Nordström

:

Mixing, Mastering

Ryan Butler

:

Recording (vocals)

Terry Nikas

:

Recording (music)

Marios Iliopoulos

:

Producer
Additional notes
US Release Date: 11th October 2011.

Recorded by Terry Nikas at Zero Gravity Studios in Athens, Greece.
Vocals recorded by Ryan Butler at Arcane Digital Recording Studio in Arizona, USA.
Mixed and mastered by Fredrik Nordström at Studio Fredman in Gothenburg, Sweden.

Japanese and digital edition contain a bonus track:

16. Photograph (Def Leppard Cover) (04:34)

Vinyl version released by Floga Records, 400 copies on black and 100 copies on green-clear vinyl.