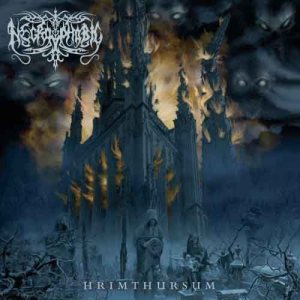 Hrimthursum
Reviews : 0
Comments : 0
Total votes : 0
Rating : -
Have : 0
Want : 0
Added by

SludgeLeader
| | Title | Length | Rating | Votes |
| --- | --- | --- | --- | --- |
| 1. | The Slaughter of Baby Jesus | 3:15 | - | 0 |
| 2. | Blinded by Light, Enlightened by Darkness | 4:03 | - | 0 |
| 3. | I Strike with Wrath | 5:53 | - | 0 |
| 4. | Age of Chaos | 5:51 | - | 0 |
| 5. | Bloodshed Eyes | 4:07 | - | 0 |
| 6. | The Crossing | 6:19 | - | 0 |
| 7. | Eternal Winter | 5:21 | - | 0 |
| 8. | Death Immaculate | 4:41 | - | 0 |
| 9. | Sitra Ahra | 5:56 | - | 0 |
| 10. | Serpents (Beneath the Forest of the Dead) | 3:45 | - | 0 |
| 11. | Black Hate | 4:00 | - | 0 |
| 12. | Hrimthursum | 6:03 | - | 0 |
Tobias Sidegård

:

Vocals, Bass

Joakim Sterner

:

Drums

Sebastian Ramstedt

:

Guitars

Johan Bergebäck

:

Guitars
Guest / session musicians
Sandra Camenisch

:

Vocals
Production staff / artist
Mattias Lindback

:

Photography

Peter in De Betou

:

Mastering

Anders Bentell

:

Engineering

Fredrik Folkare

:

Engineering, Mixing

Erik "Tyrant" Gustavsson

:

Cover Art

Joakim Sterner

:

Art Direction, Design
Additional notes
Recorded at House of VooDoo Studio in Stockholm, November 2005 - January 2006.
Mixed at Chrome Studios, February 2006.
Mastered at Tailor Maid Production.
Produced by Necrophobic.

LP released by War Anthem Records in June of 2007.
A video was made for "Blinded by Light, Enlightened by Darkness".

Limited edition comes with slipcase.