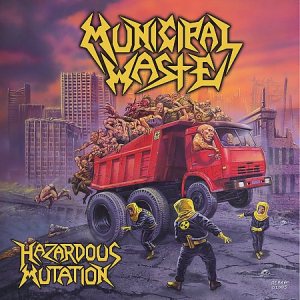 Hazardous Mutation
Reviews : 0
Comments : 0
Total votes : 0
Rating : -
Have : 0
Want : 0
Added by

SludgeLeader
Hazardous Mutation Information
| | Title | Length | Rating | Votes |
| --- | --- | --- | --- | --- |
| 1. | Intro / Deathripper | 2:18 | - | 0 |
| 2. | Unleash the Bastards | 1:56 | - | 0 |
| 3. | The Thing | 1:53 | - | 0 |
| 4. | Blood Drive | 1:13 | - | 0 |
| 5. | Accelerated Vision | 1:25 | - | 0 |
| 6. | Guilty of Being Tight | 1:52 | - | 0 |
| 7. | Set to Destruct | 2:01 | - | 0 |
| 8. | Hazardous Mutation | 1:20 | - | 0 |
| 9. | Nailed Casket | 1:36 | - | 0 |
| 10. | Abusement Park | 0:59 | - | 0 |
| 11. | Black Ice | 0:23 | - | 0 |
| 12. | Mind Eraser | 2:17 | - | 0 |
| 13. | Terror Shark | 1:42 | - | 0 |
| 14. | The Thrashin' of the Christ | 2:30 | - | 0 |
| 15. | Bangover | 2:38 | - | 0 |
Tony Foresta

:

Vocals

Land Phil

:

Bass, Background Vocals

Ryan Waste

:

Guitars, Background Vocals

Dave Witte

:

Drums
Production staff / artist
Ed Repka

:

Cover Art

Cory Smoot

:

Producer

Alan Douches

:

Mastering

Brien White

:

Graphic Design
Additional notes
An alternate album cover exists with the same art but with a red logo and no album title appearing on the cover.

The sample at the beginning of "Guilty of Being Tight" is from the cult horror movie "Phantasm".

The tracklisting on the back of the CD case incorrectly lists "Intro" and "Deathripper" as two seperate tracks.
Municipal Waste Discography