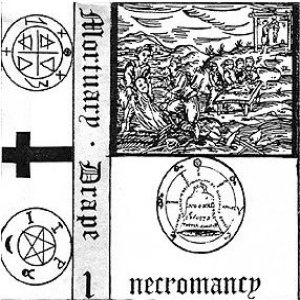 Necromancy
Reviews : 0
Comments : 0
Total votes : 0
Rating : -
Have : 0
Want : 0
Added by

Borisman
| | Title | Length | Rating | Votes |
| --- | --- | --- | --- | --- |
| 1. | Intro | 5:10 | - | 0 |
| 2. | Primordial | 3:49 | - | 0 |
| 3. | Into the Catacomba | 6:54 | - | 0 |
| 4. | Presences | 3:47 | - | 0 |
| 5. | Vengeance From Beyond | 4:07 | - | 0 |
| 6. | Obsessed by Necromancy | 4:05 | - | 0 |
| 7. | Evil Dead | 2:58 | - | 0 |
Witch

:

Rhythm Guitar

The Alchemist

:

Guitars

Wildness Perversion

:

Drums

Without Name

:

Bass, Vocals
Additional notes
Demo had two different covers, second cover had different style font and band picture was in color.

"This demo talks about necromancy or divination by deads consultation.
Speech regards astral world with particular reference to the undead.
All that represents for MORTUARY DRAPE a true faith and a mission.
Our demo is in memory of all those who lived,suffered and died in the sacred name of the WITCHCRAFT BLESSED BE ."
Mortuary Drape Discography