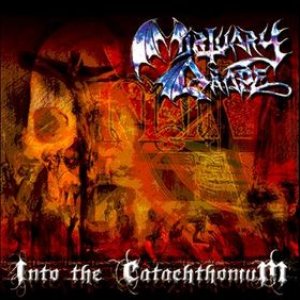 Into the Catachthonium
Reviews : 0
Comments : 0
Total votes : 0
Rating : -
Have : 0
Want : 0
Added by

Borisman
Into the Catachthonium Information
| | Title | Length | Rating | Votes |
| --- | --- | --- | --- | --- |
| 1. | Mother / Crepuscolar Whisper | 6:14 | - | 0 |
| 2. | Moon | 3:20 | - | 0 |
| 3. | Zombie | 5:32 | - | 0 |
| 4. | Vengeance from Beyond | 4:02 | - | 0 |
| 5. | My Soul / Primordial | 9:28 | - | 0 |
| 6. | Astral Bewitchment | 5:48 | - | 0 |
| 7. | Funeral Chant | 5:13 | - | 0 |
| 8. | Larve | 5:32 | - | 0 |
| 9. | Tregenda (Dance in Shroud) | 7:24 | - | 0 |
| 10. | 13th Way | 3:52 | - | 0 |
| 11. | Intro (Chain) | 1:26 | - | 0 |
| 12. | Medium Mortem | 4:12 | - | 0 |
| 13. | Occult Abyss | 6:56 | - | 0 |
| 14. | Who Calls Me (live) | 4:52 | - | 0 |
Additional notes
The live track was recorded in Stockholm, Sweden in 2006.

Combines the EP Into the Drape (1992), with the full-length All the Witches Dance (1995), and a live track.

The original issue of this compilation on Uniforce Records in 2002 is considered a bootleg. The new Hell Institute version is endorsed by the band.

The track list on the back cover shows 16 tracks, but some songs are combined, resulting in 14 tracks on the disc. The proper track list is shown here.
Mortuary Drape Discography