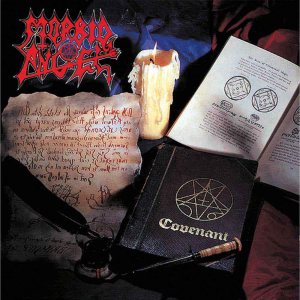 Covenant
| | |
| --- | --- |
| Artist | |
| Type | Studio Full-length |
| Released | 1993-06-22 |
| Genres | Death Metal |
| Labels | Earache, Giant Records |
| Length | 41:04 |
Reviews : 0
Comments : 0
Total votes : 0
Rating : -
Added by

Eagles
Last edited by

SludgeLeader
| | Title | Length | Rating | Votes |
| --- | --- | --- | --- | --- |
| 1. | Rapture | 4:17 | - | 0 |
| 2. | Pain Divine | 3:57 | - | 0 |
| 3. | World of Shit (The Promised Land) | 3:20 | - | 0 |
| 4. | Vengeance Is Mine | 3:15 | - | 0 |
| 5. | Lion's Den | 4:44 | - | 0 |
| 6. | Blood on My Hands | 3:43 | - | 0 |
| 7. | Angel of Disease | 6:15 | - | 0 |
| 8. | Sworn to the Black | 4:00 | - | 0 |
| 9. | Nar Mattaru | 2:06 | - | 0 |
| 10. | God of Emptiness | 5:27 | - | 0 |
David Vincent

:

Vocals, Bass, Lyrics, Songwriting (tracks 1-6, 8, 10)

Pete Sandoval

:

Drums

Trey Azagthoth

:

Guitars, Keyboards, Songwriting (tracks 1-4, 6, 8, 10)
Production staff / artist
Morbid Angel

:

Producer

Martin Nesbitt

:

Layout

Luton Sinfield

:

Photography (cover)

Flemming Rasmussen

:

Producer, Engineering, Mixing

Tom Morris

:

Engineering
Additional notes
Engineered at Morrisound Studios in Tampa, Florida.
Mixed at Sweet Silence Studios in Copenhagen, Denmark.

Music videos were made for Rapture and God of Emptiness.

The album was the first death metal album released on a major label only in the U.S. Some original copies have the parental advisory label on the covers which were later removed in future releases of the CD.

The Giant Records version of the album changed the front cover slightly by omitting the two circular sigils located on the left hand page of the open book in the top right hand corner of the cover.

Released in Australia by Modern Invasion Music.