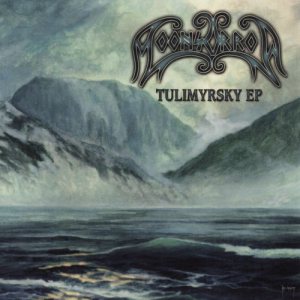 Tulimyrsky
Reviews : 0
Comments : 0
Total votes : 0
Rating : -
Have : 0
Want : 0
Added by

Angelbeats
| | Title | Length | Rating | Votes |
| --- | --- | --- | --- | --- |
| 1. | Tulimyrsky | 29:45 | - | 0 |
| 2. | For Whom the Bell Tolls (Metallica cover) | 7:42 | - | 0 |
| 3. | Taistelu pohjolasta (Re-Recorded) | 8:11 | - | 0 |
| 4. | Hvergelmir (Re-Recorded) | 9:30 | - | 0 |
| 5. | Back to North (Merciless cover) | 13:08 | - | 0 |
Henri Sorvali

:

Guitars, Keyboards, Banjo, Mouth Harp, Vocals (backing)

Marko Tarvonen

:

Drums, Guitars (acoustic), Mandolin, Vocals (backing)

Mitja Harvilahti

:

Guitars, Vocals (backing)

Ville Sorvali

:

Bass, Vocals (lead)

Markus Eurén

:

Keyboards
Additional notes
Recorded in JiVe studio, Jan/Feb 2008.
Mixed by Jukka Varmo and Henri Sorvali.
Mastered by Mika Jussila at Finnvox.
Cover art by Kris Verwimp.

This EP sees a set of visitors in form of actor Turkka Mastomäki, Olav Eira (Áigi), Tomi Koivusaari (Amorphis), Oppu Laine (Mannhai) and Janne Perttilä (Rytmihäiriö/Moonsorrow), all of whom contributed vocals.

The original version of 'Taistelu Pohjolasta' was on the "Tämä Ikuinen Talvi" demo. The original version of 'Hvergelmir' was on the "Metsä" demo.

'Tulimyrsky' means 'Firestorm'.

The Metallica cover 'For Whom The Bell Tolls' was recorded in 2005.