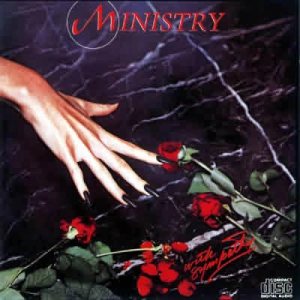 With Sympathy
Artist
Type
Studio Full-length
Released

1983-08

Genres

New Wave

,

Synthpop

Labels
AFM Records
Length
37:39
Reviews : 0
Comments : 0
Total votes : 0
Rating : -
Have : 0
Want : 0
Added by

SludgeLeader
With Sympathy Information
| | Title | Length | Rating | Votes |
| --- | --- | --- | --- | --- |
| 1. | Effigy (I'm Not An) | 3:51 | - | 0 |
| 2. | Revenge | 3:48 | - | 0 |
| 3. | I Wanted to Tell Her | 5:29 | - | 0 |
| 4. | Work for Love | 4:44 | - | 0 |
| 5. | Here We Go | 3:21 | - | 0 |
| 6. | What He Say | 4:04 | - | 0 |
| 7. | Say You're Sorry | 4:18 | - | 0 |
| 8. | Should Have Known Better | 4:31 | - | 0 |
| 9. | She's Got a Cause | 3:33 | - | 0 |
Al Jourgensen

:

Vocals, Keyboards

Stephen George

:

Drums
Guest / session musicians
Doreen Chanter

:

Vocals

Ziv Gidron

:

Chanting

Ministry of Horns

:

Horns

Brad Hallen

:

Bass

Antonia De Portago

:

Vocals

Vince Ely

:

Percussion, Keyboards

Martin Sorenson

:

Bass

Walter Turbitt

:

Guitars

John Davis

:

Keyboards

Shay Jones

:

Vocals

Marybeth O'Hara

:

Vocals

Bob Suber

:

Saxophone

Robert Roberts

:

Keyboards, Bass
Production staff / artist
David Wooley

:

Engineering

Mark "Flood" Ellis

:

Engineering

Ian Taylor

:

Producer, Engineering

Vince Ely

:

Producer

Jim Nash

:

Cover Concept
Brian Shanley Cover Concept

David Gahr

:

Photography (inner Sleeve)

Alberto Rizzo

:

Photography

Greg Calbi

:

Mastering

Steve Jackson

:

Tape Operator

Roger Merritt

:

Tape Operator

David Heglmeier

:

Tape Operator
Additional notes
Recorded and mixed at Southern Studios, London.
Produced by Ian Taylor & Vince Ely.

Trivia:
- Al Jourgensen insists that he was pressured by Arista into composing new wave material, and has consequentially disowned this record along with much of Ministry's earliest output. He adopts a faux-British accent, once again supposedly on command from management.
- Titled Work for Love in the European market to capitalize on the popularity of the eponymous single along with a re-arranged track order. Some overseas issues still feature the original cover art.

Music videos:
- Revenge

All songs written by Alain Jourgensen except "I Wanted to Tell Her", written by Alain Jourgensen and Shay Jones.
All songs published by Ministry Affairs Publishing (BMI).