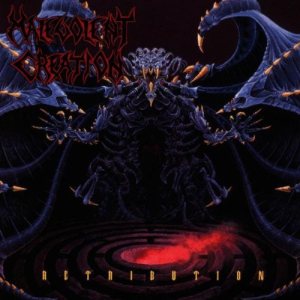 Retribution
| | |
| --- | --- |
| Artist | |
| Type | Studio Full-length |
| Released | 1992-04-02 |
| Genres | Death Metal |
| Labels | Roadrunner Records |
| Length | 34:09 |
Reviews : 0
Comments : 0
Total votes : 0
Rating : -
Have : 0
Want : 0
Added by

Eagles
Last edited by

SludgeLeader
| | Title | Length | Rating | Votes |
| --- | --- | --- | --- | --- |
| 1. | Eve of the Apocalypse | 4:21 | - | 0 |
| 2. | Systematic Execution | 3:28 | - | 0 |
| 3. | Slaughter of Innocence | 3:45 | - | 0 |
| 4. | Coronation of Our Domain | 5:06 | - | 0 |
| 5. | No Flesh Shall Be Spared | 4:26 | - | 0 |
| 6. | The Coldest Survive | 3:18 | - | 0 |
| 7. | Monster | 2:40 | - | 0 |
| 8. | Mindlock | 3:06 | - | 0 |
| 9. | Iced | 3:59 | - | 0 |
Brett Hoffmann

:

Vocals, Lyrics

Rob Barrett

:

Guitars

Phil Fasciana

:

Guitars

Jason Blachowicz

:

Bass

Alex Marquez

:

Drums
Guest / session musicians
James Murphy

:

Lead Guitar (track 4)
Production staff / artist
Dan Seagrave

:

Cover Illustration

Mark Gruber

:

Assistant Engineering

Big Jeff

:

Logo

Jason Blachowicz

:

Logo

Mark Douglas

:

Photography

Mike Fuller

:

Mastering

Scott Burns

:

Producer, Engineering, Mixing

Monte Conner

:

A&R
Additional notes
Produced by Scott Burns and Malevolent Creation.
Recorded at Criteria Recording, Miami, FL.
Mixed at Morrisound Recording, Tampa, FL.
Mastered at Fullersound, Miami, FL.

The intro to "Eve of the Apocalypse" is Robert McNaughton's theme for the 1990 film Henry: Portrait of a Serial Killer.

All music written by Malevolent Creation.
Malevolent Creation Discography