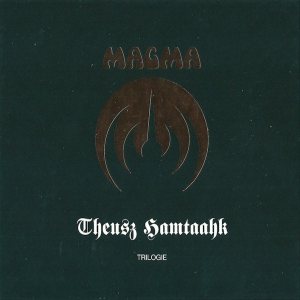 Theusz Hamtaahk Trilogie
Reviews : 0
Comments : 0
Total votes : 0
Rating : -
Have : 0
Want : 0
Added by

Pop-Tarts
Theusz Hamtaahk Trilogie Information
Title
Length
Rating
Votes
Ier mouvement: Theusz Hamtaahk
Disc 1
1.

Malaẁëlëkaahm

6:28
-
0
2.

Sëẁolahẁëhn öhn Zaïn

6:42
-
0
3.

Dëümb ʌëwëlëss dölëhn

3:52
-
0
4.

Zeuhl Ẁortz

2:28
-
0
5.

Ğorutz ẁaahrn'

3:15
-
0
6.

Tü lü lï ʌë üi dü wiï

1:08
-
0
7.

Sé Lah Maahrï Donsaï

2:31
-
0
8.

Slibenli dëh Theusz

5:21
-
0
9.

Zortsüng

3:09
-
0
IIe mouvement: Ẁurdah Ïtah
Disc 2
1.

Malaẁëlëkaahm (Incantation)

4:21
-
0
2.

Brädïa da zïmehn iëgah (L'initié a parlé)

2:35
-
0
3.

Manëh für da Zëss (Ensemble pour le Maître)

1:42
-
0
4.

Für dï Hël Kobaïa (Pour la vie éternelle)

5:38
-
0
5.

Blüm tendiwa (L'âme du peuple)

5:49
-
0
6.

Ẁohldünt mʌëm dëẁëlëss (Message dans l'étendue)

3:08
-
0
7.

Ẁaïnsaht !!! (En avant !!!)

3:11
-
0
8.

Ẁlasïk steuhn Kobaïa (Ascension vers l'éternel)

2:44
-
0
9.

Sëhnntëht dros ẁurdah süms (La mort n'est rien)

6:00
-
0
10.

C'est la vie qui les a menés là !

4:32
-
0
11.

Ëk sün da Zëss (Qui est le maître)

2:37
-
0
12.

De Zeuhl ündazïr (Vision de la musique céleste)

6:11
-
0
IIIe mouvement: Mëkanïk Dëstruktïẁ Kömmandöh
Disc 3
1.

Hortz fur dëhn Štekëhn Wešt

10:17
-
0
2.

Ïma süri Dondaï

4:13
-
0
3.

Kobaïa iss de hündin

2:07
-
0
4.

Da Zeuhl Ẁortz Mëkanïk

7:20
-
0
5.

Nebëhr Ğudahtt

7:39
-
0
6.

Mëkanïk Kömmandöh

8:05
-
0
7.

Kreuhn Köhrmahn ïss dëh hündïn

1:30
-
0
8.

Da Zeuhl Ẁortz ẁaïnsaht (Hymne de la Zeuhl Ẁortz)

1:53
-
0
9.

[Untitled]

5:49
-
0
Additional notes
Recorded live at Théâtre du Trianon in Paris (France) during the Magma 30th Anniversary celebration on 13th and 14th May 2000.
Mixed at Studio UZ, Autumn 2000.
Sleeve at UZ Grafik.

Ier Mouvement composed 1970-1973.
IIè Mouvement composed 1971.
IIIè Mouvement composed 1972.

Seventh Records © ℗ 2001
Fabriqué en France par MPO
__________________________

Includes a 16-page colour booklet and the complete lyrics to the Trilogy in a 80-page booklet.
Each CD is housed in a gatefold cardboard sleeve.