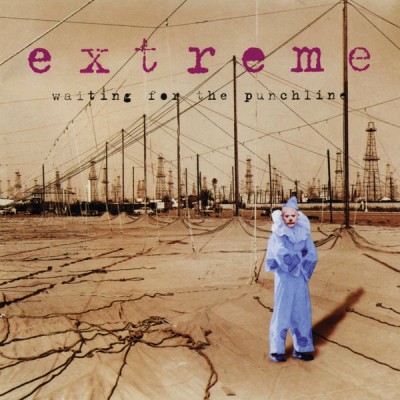 Waiting for the Punchline
Reviews : 0
Comments : 0
Total votes : 0
Rating : -
Have : 0
Want : 0
Added by

Eagles
Last edited by

SludgeLeader
Waiting for the Punchline Information
| | Title | Length | Rating | Votes |
| --- | --- | --- | --- | --- |
| 1. | There Is No God | 6:08 | - | 0 |
| 2. | Cynical Fuck | 4:42 | - | 0 |
| 3. | Tell Me Something I Don't Know | 6:25 | - | 0 |
| 4. | Hip Today | 4:42 | 85 | 1 |
| 5. | Naked | 5:47 | - | 0 |
| 6. | Midnight Express | 3:59 | - | 0 |
| 7. | Leave Me Alone | 4:48 | - | 0 |
| 8. | No Respect | 3:52 | - | 0 |
| 9. | Evilangelist | 4:49 | - | 0 |
| 10. | Shadow Boxing | 4:34 | - | 0 |
| 11. | Unconditionally | 5:01 | - | 0 |
| 12. | Fair-Weather Faith | 4:49 | - | 0 |
| 13. | Waiting for the Punchline | 6:00 | - | 0 |
Gary Cherone

:

Lead Vocals

Nuno Bettencourt

:

Guitars, Keyboards, Backing Vocals

Pat Badger

:

Bass Guitar, Backing Vocals

Mike Mangini

:

Drums (tracks 4, 7, 8)

Paul Geary

:

Drums (tracks 1-3, 5, 6, 9-12.1)
Production staff / artist
Nuno Bettencourt

:

Producer

Bob St. John

:

Co-producer, Engineer

Chris Carrol

:

Additional Assistant Engineer

Chris Nix

:

Additional Assistant Engineer

Michael Thompson

:

Additional Assistant Engineer

Scott Perry

:

Additional Assistant Engineer

Steve Robillard

:

Additional Assistant Engineer

Carl Nappa

:

Assistant Engineer

Bob Ludwig

:

Mastering Engineer

Brian Welch

:

Technician

Mike Keegan

:

Technician

Gary Cherone

:

Art Direction, Design

Sandy Brummels

:

Art Direction, Design

Walberg Design

:

Art Direction, Design
Additional notes
Track 2 is listed as "Cynical Fuck" in the booklet.
Track 12.2, known as "Waiting For The Punchline", isn't mentioned anywhere on release; total duration for track 12 is 11:15.

Recorded at Criteria Recording Studios, Miami, FL.
Mixed at Crescent Moon Studios, Miami, FL.
Tracks 4, 7, 8 recorded at Sound Techniques, Boston, MA; mixed at The Hit Factory, New York, NY.
Mastered at Gateway Mastering Studios, Portland, Maine.