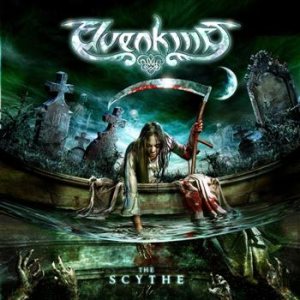 The Scythe
Artist
Type
Studio Full-length
Released

2007-09-14

Genres

Power Metal

,

Folk Metal

Labels
AFM Records
Length
55:19
Reviews : 0
Comments : 0
Total votes : 0
Rating : -
Have : 0
Want : 0
Added by

Eagles
| | Title | Length | Rating | Votes |
| --- | --- | --- | --- | --- |
| 1. | The Scythe | 5:36 | - | 0 |
| 2. | Lost Hill of Memories | 4:58 | - | 0 |
| 3. | Infection | 5:24 | - | 0 |
| 4. | Poison Tears | 4:30 | - | 0 |
| 5. | A Riddle of Stars | 5:22 | - | 0 |
| 6. | Romance & Wrath | 8:14 | - | 0 |
| 7. | The Divided Heart | 4:39 | - | 0 |
| 8. | Totentanz | 2:28 | - | 0 |
| 9. | Death and the Suffering | 5:11 | - | 0 |
| 10. | Dominhate | 8:57 | - | 0 |
Damnagoras

:

Vocals

Aydan

:

Guitars

Gorlan

:

Bass

Elyghen

:

Keyboards, Violin

Zender

:

Drums
Additional notes
The CD was mixed at Sonic Pump Studios in Helsinki, Finland. The mastering took
place on April 10 at Finnvox Studios with Mika Jussila and Nino Laurenne.

The digipack edition contains a bonus song called "Horns Ablaze" between "The
Divided Heart" and "Totentanz".

"The Scythe" features a guest appearance on two tracks by Swedish guitarist
Mike Wead (King Diamond, Mercyful Fate, Memento Mori, Firegod, Abstrakt
Algebra, Candlemass).

A video for the song "The Divided Heart" was shot with director Mirco Andreis
(Eldritch, Macbeth, Disarmonia Mundi).