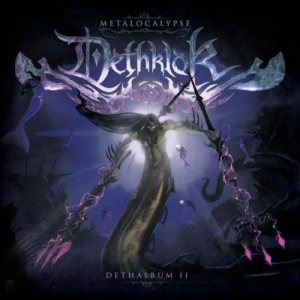 Dethalbum II
| | |
| --- | --- |
| Artist | |
| Type | Studio Full-length |
| Released | 2009-09-08 |
| Genres | Melodic Death Metal |
| Labels | Williams Street |
| Length | 51:54 |
Reviews : 0
Comments : 0
Total votes : 0
Rating : -
Have : 0
Want : 0
Added by

SludgeLeader
| | Title | Length | Rating | Votes |
| --- | --- | --- | --- | --- |
| 1. | Bloodlines | 3:30 | - | 0 |
| 2. | The Gears | 4:21 | - | 0 |
| 3. | Burn the Earth | 3:59 | - | 0 |
| 4. | Laser Canon Deth Sentence | 4:36 | - | 0 |
| 5. | Black Fire Upon Us | 5:40 | - | 0 |
| 6. | Deth Support | 2:42 | - | 0 |
| 7. | The Cyborg Slayers | 4:16 | - | 0 |
| 8. | I Tamper with the Evidence at the Murder Site of Odin | 4:30 | - | 0 |
| 9. | Murmaider II: The Water God | 5:43 | - | 0 |
| 10. | Comet Song | 3:48 | - | 0 |
| 11. | Symmetry | 4:31 | - | 0 |
| 12. | Volcano | 4:18 | - | 0 |
Brendon Small

:

Vocals, Guitars, Bass, Keyboards

Gene Hoglan

:

Drums
Additional notes
The album was released as both a standard edition and a two-disc deluxe edition on CD and digital download beginning September 8. Additionally, a limited edition vinyl of the album was released in to local record shops on September 29.

The deluxe edition includes a bonus DVD with 52 minutes of never-before-released music videos featured in the 2008 Dethklok tour.
Fiction album credits:
Nathan Explosion – vocals, lyricist
Pickles the Drummer – drums, backup vocals
Skwisgaar Skwigelf – lead guitar, rhythm guitar, keyboards
Toki Wartooth – rhythm guitar
William Murderface – bass guitar

Produced by Dethklok and Dick "Magic Ears" Knubbler
All legal by Charles Offdensen
All songs recorded at Dethklok Studios in Mordhaus except "Murmaider II: The Water God" recorded in a nuclear sub in the Mariana Trench.