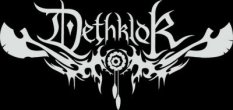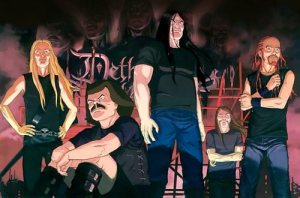 Dethklok
Brendon Small

:

Bass

(2006-2012)

, Vocals, Guitars, Keyboards

(2006-)

Bryan Beller

:

Bass

(2012-)

Gene Hoglan

:

Drums

(2007-)
Releases : 3 Total votes : 0 Reviews : 0
Added by

SludgeLeader
Additional notes
The band originated from the Cartoon Network Adult Swim Show Metalocalypse, created by Brendon Small who also created the other popular Adult Swim Show Home Movies.

The fictional show active lineup is:
Nathan Explosion - Vocals
Skwisgaar Skwigelf - Guitar (Agnostic Priest, Gangagar, Eldeleel-Alele, Gognog Mug Alugdug, Fuckface Academy, Sausage Assassin, Financially Raped, Smugly Dismissed)
Toki Wartooth - Guitar
William Murderface - Bass (Planet Piss)
Pickles the Drummer - Drums (Snakes 'N Barrels)

show past members
Magnus Hammersmith - Rhythm Guitars (kicked out )

The band split-up during 2 episodes on season 4 (Episodes 11 and 12).

On the show Dethklok has referred their genre of metal as "Ragnarok metal".