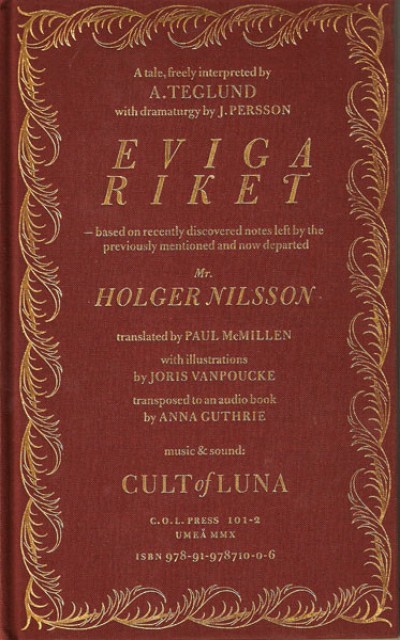 Eviga riket
Reviews : 0
Comments : 0
Total votes : 0
Rating : -
Have : 0
Want : 0
Added by

SludgeLeader
| | Title | Length | Rating | Votes |
| --- | --- | --- | --- | --- |
| 1. | Gingin | 2:41 | - | 0 |
| 2. | Jämmerdalen | 2:20 | - | 0 |
| 3. | Varken dur eller moll | 3:02 | - | 0 |
| 4. | Elisabets vals | 1:48 | - | 0 |
| 5. | Mors Tema | 1:27 | - | 0 |
| 6. | Elddansen | 4:47 | - | 0 |
| 7. | Maran | 2:38 | - | 0 |
| 8. | Harälgen | 4:05 | - | 0 |
| 9. | Skogens häst | 4:20 | - | 0 |
| 10. | Petterssons ackord | 1:05 | - | 0 |
| 11. | Om igen | 2:50 | - | 0 |
| 12. | Gitarrarpeggio | 1:15 | - | 0 |
| 13. | Ekokammarn | 1:19 | - | 0 |
| 14. | Substantiell | 7:46 | - | 0 |
| 15. | Nord | 7:20 | - | 0 |
Johannes Persson

:

Guitars, Vocals, Story (dramaturgy)

Magnus Lindberg

:

Percussion, Guitars

Klas Rydberg

:

Vocals

Erik Olofsson

:

Guitars

Andreas Johansson

:

Bass

Thomas Hedlund

:

Drums

Anders Teglund

:

Sampler, Synthesizer, Trumpet, Story (interpretation)

Fredrik Kihlberg

:

Guitars, Vocals
Guest / session musicians
Anna Guthrie

:

Narration (english)

Sara Arnia

:

Narration (swedish)
Production staff / artist
Joris Vanpoucke

:

Illustration

Anders Teglund

:

Recording (narration)

Sven Nordström

:

Engineer (narration)

Magnus Lindberg

:

Recording, Mixing, Mastering Engineer

Johannes Persson

:

Producer
Additional notes
Narrations recorded at Sveriges Radio Norrbotten in Sept. 2009.
Music recorded, edited, mixed and mastered in Studio Bautasten (Umeå) in Sept. - Oct. 2009 and in Tonteknik (Göteborg) in Oct. - Nov. 2009.

A dramatized tale based on the notes of the late mental patient Holger Nillson. Comes with a DVD that contains the narrated version of the book accompanied by music by the band. The book and the narrated DVD are both in English and Swedish.

The track lengths compiled below are the approximated lengths of the music only; the DVD itself, including the narration, is one hour and 47 minutes long.

The song that is played at the DVD menu and reoccurs throughout the story is called "Ugíns Ljud (The Sound of Ugín)".