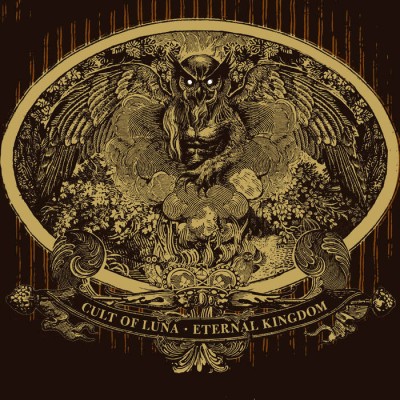 Eternal Kingdom
Reviews : 0
Comments : 0
Total votes : 0
Rating : -
Have : 0
Want : 0
Added by

SludgeLeader
Eternal Kingdom Information
| | Title | Length | Rating | Votes |
| --- | --- | --- | --- | --- |
| 1. | Owlwood | 7:40 | - | 0 |
| 2. | Eternal Kingdom | 6:41 | - | 0 |
| 3. | Ghost Trail | 11:50 | - | 0 |
| 4. | The Lure (Interlude) | 2:34 | - | 0 |
| 5. | Mire Deep | 5:11 | - | 0 |
| 6. | The Great Migration | 6:32 | - | 0 |
| 7. | Österbotten | 2:20 | - | 0 |
| 8. | Curse | 6:31 | - | 0 |
| 9. | Ugín | 2:44 | - | 0 |
| 10. | Following Betulas | 8:56 | - | 0 |
Johannes Persson

:

Guitar, Vocals

Magnus Lindberg

:

Guitars, Percussion

Klas Rydberg

:

Vocals

Erik Olofsson

:

Guitars

Andreas Johansson

:

Bass

Thomas Hedlund

:

Drums

Anders Teglund

:

Sampler, Synthesizer, Trumpet

Fredrik Kihlberg

:

Guitars, Vocals
Guest / session musicians
Erik Palmberg

:

Horns (tracks 4, 10)

David Sandström

:

Vocals (track 10)
Production staff / artist
Magnus Lindberg

:

Recording, Mixing, Mastering Engineer

Samuel Lindberg

:

Recording of Horns in Stockholm

Anders Teglund

:

Mixing (track 7)

Erik Olofsson

:

Cover Art

Pär Olofsson

:

Cover Art
Additional notes
For years Johannes Persson told journalists that the album was based on a diary the band found in their rehearsal space (an old mental institution) called 'Tales From The Eternal Kingdom', written by a mental patient who was convicted for the murder of his wife. Both the music and the lyrics were said to reflect the stories in the diary.

The hoax was uncovered in 2012 when the band released the diary as a book, and the literary reviewers - as opposed to their music counterparts - checked the story and immediately found out there was no truth behind it.
Johannes Persson said they had decided to make up this false, crazy concept to make a point about the lack of integrity in music journalists.

Reissued in 2009 as a slipcase edition with a bonus DVD "Fire Was Born".