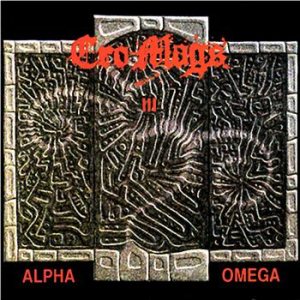 Alpha Omega
Reviews : 0
Comments : 0
Total votes : 0
Rating : -
Have : 0
Want : 0
Added by

SludgeLeader
| | Title | Length | Rating | Votes |
| --- | --- | --- | --- | --- |
| 1. | See the Signs | 4:07 | - | 0 |
| 2. | Eyes of Tomorrow | 3:28 | - | 0 |
| 3. | The Other Side of Madness (Revenge) | 6:02 | - | 0 |
| 4. | Apocalypse Now | 8:08 | - | 0 |
| 5. | Paths of Perfection | 3:05 | - | 0 |
| 6. | Victims | 4:41 | - | 0 |
| 7. | VII | 1:18 | - | 0 |
| 8. | Kuruksetra | 4:11 | - | 0 |
| 9. | Changes | 11:47 | - | 0 |
John Joseph

:

Vocals

Harley Flanagan

:

Bass, Vocals

Doug Holland

:

Guitars

Gabby Abularach

:

Guitars

Dave DiCenso

:

Drums
Production staff / artist
Harley Flanagan

:

Producer

Tom Soares

:

Engineering
Additional notes
Facts:
Music by Rob Buckley & Parris Mitchel Mayhew with Harley Flanagan and Cro-Mags except "Apocalypse Now" by Harley Flanagan
Lyrics by Harley Flanagan, John Joseph
Produced by Harley Flanagan
Engineered by Tom Soares
Recorded at Normandy Sound

Also known as Alpha-Omega and Alpha III Omega.

Reissued in June 2010 by Tribunal Records, containing the video for the song "The Paths of Perfection".

In some versions of the album the song "Changes" is divided in two tracks, the first part being 7:10 long, (the part of the song that has lyrics) listed as "Changes" and the second part (the instrumental part) being 4:37 long and not being listed, making it seem to be a bonus hidden track.