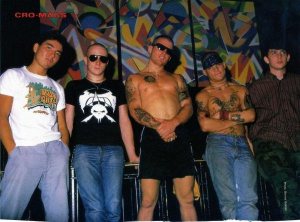 Cro-Mags
John Joseph Bloodclot

:

Vocals

(1984-1987, 1991-1999, 2002-2003, 2008-)

A.J. Novello

:

Guitars

(2001-2002, 2002-2003, 2008-)

Mike "The Gook" Couls

:

Bass

(2012-)

Mackie

:

Drums

(1984-1986, 1996-1999, 2008-)
Dave Hahn

:

Drums

(1980-1982)

Parris Mitchel Mayhew

:

Guitars

(1980-1991, 1999-2001)

Dave Stein

:

Guitars

(1980-1981)

John Berry

:

Vocals

(1980-1981)

Harley Flanagan

:

Vocals, Bass

(1980-1993, 1999-2002)

Winston Churchill

:

Drums

(1982-1984)

Eric Casanova

:

Vocals

(1982-1984)

Doug Holland

:

Guitars

(1985-1989, 1991-1993, 1993-1995, 1996-1999, 2002)

Petey Hines

:

Drums

(1986-1989)

Dave DiCenso

:

Drums

(1989-1995, 1999-2001, 2002)

Rob Buckley

:

Guitars

(1989-1991, 2000-2001)

Gabby Abularach

:

Guitars

(1991-1995, 2002)

Craig Setari

:

Bass

(1996-1999, 2008-2012)

Scott Roberts

:

Guitars

(1996-1999)

Ryan Krieger

:

Drums

(1999, 2001)

Rocky George

:

Guitars

(1999-2000, 2002-2003)

Gary G-Man Sullivan

:

Drums

(2001-2002, 2002-2003)

Franklin Rhi

:

Bass

(2002-2003)
Releases : 10 Total votes : 0 Reviews : 0
Added by

SludgeLeader
Additional notes
Picture is the "Age of Quarrel" line-up: (from l. to r.) Mackie Jayson, Doug Holland, John Joseph, Harley Flanagan, Parris Mayhew.

Cro-Mags are a classic example of a band which played the popular NYHC sound of the 80's during the American hardcore movement.

Unofficial discography:
1986- "Live at Rendevous", Vinyl 1986
1991- "Dreams in Black 'n' White", Vinyl 1991

At various times in the 90s and 00s both Harley and John Joseph simultaneously led 2 separate versions of the Cro-Mags with completely different line-ups. These groups billed themselves as "Cro-Mag Jam", "Cro-Mags-NYC", "Age of Quarrel", "Street Justice" or "Cro-Mags" (whether or not the name was owned legally by the certain version of the band in question). Sometimes only one original member would be present, sometimes two or three, and sometimes even both John Joseph and Harley together.