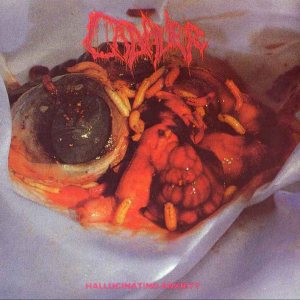 Hallucinating Anxiety
Reviews : 0
Comments : 0
Total votes : 0
Rating : -
Have : 0
Want : 0
Added by

Borisman
Hallucinating Anxiety Information
| | Title | Length | Rating | Votes |
| --- | --- | --- | --- | --- |
| 1. | Tuba (Intro) | 0:32 | - | 0 |
| 2. | Ignominious Eczema | 4:37 | - | 0 |
| 3. | Corrosive Delirium | 2:56 | - | 0 |
| 4. | Erosive Fester | 2:42 | - | 0 |
| 5. | Hallucinating Anxiety | 3:44 | - | 0 |
| 6. | Cannibalistic Dissection | 2:46 | - | 0 |
| 7. | Hypertrophyan | 3:18 | - | 0 |
| 8. | Petrifyed Faces | 2:40 | - | 0 |
| 9. | Innominate | 3:32 | - | 0 |
| 10. | Twisted Collapse | 2:19 | - | 0 |
| 11. | Abnormal Deformity | 3:18 | - | 0 |
| 12. | Maelstrom | 3:29 | - | 0 |
| 13. | Mental Abherrance | 2:38 | - | 0 |
| 14. | Bodily Trauma | 4:10 | - | 0 |
Anders Odden

:

Guitars

René Jansen

:

Bass

Ole Bjerkebakke

:

Drums, Vocals
Guest / session musicians
Svein "Tuba" Johansen

:

Trombone (on "Tuba (Intro)")
Production staff / artist
Ketil "Kællen" Johansen

:

Producer, Engineering

Jon Karstensen

:

Executive Producer

Anders Odden

:

Lyrics

Ole Bjerkebakke

:

Lyrics
Additional notes
Recorded at Kællen Studio during the Winter 1989/1990. Engineered by Ketil "Kællen" Johansen. Mixed at Studio 2, Sarpsborg in February 1990.

Released on LP and cassette. Both these versions contained all tracks.

The only CD release was a split CD (NECRO 3/4CD) with "Dark Recollections" by Carnage (Swe). Due to time constraints it omitted the track "Hypertrophyan".

"Hypertrophyan" was supposedly released on the Grindcrusher II compilation (listed as "Hypertrophian"), but the featured track was actually "Petrifyed Faces".

The tracklist for ALL versions of "Hallucinating Anxiety" is inaccurate - it fails to list the track "Erosive Fester" (track 3), and mistakenly lists "Tuba" and "Ignominious Eczema" as separate tracks (1 and 2), when they are in fact joined together as track 1. This in turn means that what is listed as track 2 and 3 ("Ignominious Eczema" and "Corrosive Delirium", respectively) is also incorrect; tracks 2 and 3 are really "Corrosive Delirium" and "Erosive Fester".

The spelling mistakes ("Petrifyed Faces", "Mental Abherrance") are as listed on the album.

The tracklist shown here is correct.