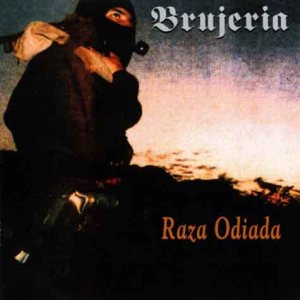 Raza odiada
Reviews : 0
Comments : 0
Total votes : 0
Rating : -
Added by

HardLine
Last edited by

SludgeLeader
| | Title | Length | Rating | Votes |
| --- | --- | --- | --- | --- |
| 1. | Raza odiada (Pito Wilson) | 3:31 | - | 0 |
| 2. | Colas de rata | 1:32 | - | 0 |
| 3. | Hechando chingasos (Greñudos locos II) | 3:35 | - | 0 |
| 4. | La migra (Cruza la frontera II) | 1:42 | - | 0 |
| 5. | Revolución | 3:19 | - | 0 |
| 6. | Consejos narcos | 2:38 | - | 0 |
| 7. | Almas de venta | 2:12 | - | 0 |
| 8. | La ley de plomo | 2:45 | - | 0 |
| 9. | Los tengo colgando (Chingo de mecos II) | 1:49 | - | 0 |
| 10. | Sesos humanos (Sacrificio IV) | 1:15 | - | 0 |
| 11. | Primer meco | 1:15 | - | 0 |
| 12. | El patrón | 3:42 | - | 0 |
| 13. | Hermanos menendez | 2:06 | - | 0 |
| 14. | Padre nuestro | 2:07 | - | 0 |
| 15. | Ritmos satánicos | 6:50 | - | 0 |
Greñudo

:

Drums

Juan Brujo

:

Vocals

Asesino

:

Guitars, Bass

Hongo

:

Guitars, Bass, Drums

Güero Sin Fe

:

Bass, Guitars

Fantasma

:

Bass, Vocals

Pinche Peach

:

Vocals
Guest / session musicians
Jr. Hozicón

:

Spoken Word On "Raza Odiada (Pito Wilson)"
Production staff / artist
Patricia Mooney

:

Artwork

Asesino

:

Producer
Additional notes
The cover features a photograph of Subcomandante Insurgente Marcos, the spokesperson and one of its main leaders for the Zapatista Army of National Liberation (EZLN).

In the intro of "Raza Odiada (Pito Wilson)" Jello Biafra (ex-vocalist of the seminal punk band Dead Kennedys) can be heard performing the spoken word role of Pito Wilson. By the way, he is not credited.

Music videos were made for songs "La Migra" & "La Ley de Plomo".