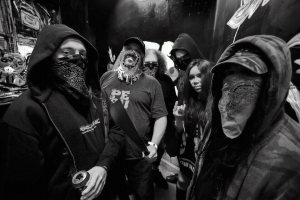 Brujeria
Country

Mexico

Formed
1989,

Tijuana, Baja California

Currently

Los Angeles, California, United States

Genres

Death Metal

,

Grindcore

Labels
Nuclear Blast
Juan Brujo

:

Vocals

(1989-)

Pititis

:

Vocals, Guitars, Backing Vocals

(2000-)

Hongo

:

Guitars

(1989-)

Fantasma

:

Bass, Backing Vocals

(1989-)

El Cynico

:

Bass, Backing Vocals

(2006-)

El Podrido

:

Drums

(2006-)

El Clavador

:

Drums

(2012-)

Pinche Peach

:

Samples, Backing Vocals

(1989-)
El Sadistico

:

Drums

Marijuano Machete

:

Electronics, Samples, Vocals

Güero Sin Fe

:

Bass, Guitars

(1989-2005)

Asesino

:

Guitars

(1989-2005)

Hozicon Jr.

:

Vocals

(1989-1992)

Greñudo

:

Drums

(1993-2002)

Cristo De Pisto

:

Guitars

(2000)

(R.I.P. 2006)

Maldito X

:

Vocals

(2001)

Hongo Jr.

:

Drums

(2002-2005)

El Angelito

:

Drums

(2006)
Releases : 15 Total votes : 1 Reviews : 0
Added by

HardLine
Last edited by

SludgeLeader
Additional notes
The band was formed in 1989 by Juan Brujo, Fantasma, Billy Gould (Faith No More) and Dino "El Asesino" Cazares (who formed Fear Factory around the same time); then other members joined. They were "on hiatus" numerous times due to members leaving or being constantly involved in other bands.

The members of Brujería portray Mexican drug lords who use nicknames to keep their identities secret. Most people still don't know the actual identities of the band but people can only assume that the mentioned people above are in the band.

Brujería is a Spanish word that means "witchcraft".