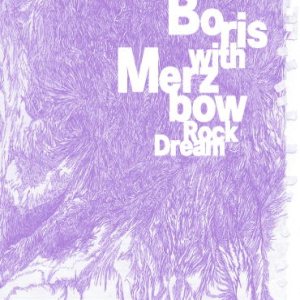 Rock Dream
Artist
Type
Live album [collaboration]
Released

2007-10-26

Genres

Noise

,

Drone

Labels
Diwphalanx, Southern Lord Recordings
Reviews : 0
Comments : 0
Total votes : 0
Rating : -
Have : 0
Want : 0
Added by

SludgeLeader
Last edited by

Eagles
Title
Length
Rating
Votes
Disc 1
1.

Feedbacker

35:06
-
0
2.

Black Out

5:20
-
0
3.

Evil Stack

5:05
-
0
4.

Rainbow

4:30
-
0
Disc 2
1.

Pink

4:14
-
0
2.

Woman on the Screen

2:37
-
0
3.

Nothing Special

2:14
-
0
4.

Ibitsu

3:35
-
0
5.

A Bao A Qu

4:35
-
0
6.

The Evilone Which Sobs

13:42
-
0
7.

Flower Sun Rain

8:05
-
0
8.

Just Abandoned My-Self

13:21
-
0
9.

Farewell

8:12
-
0
Merzbow

:

Synthesizer, Laptop, Effects, Handmade Instruments

Takeshi Ohtani

:

Vocals, Bass, Guitars

Atsuo Mizuno

:

Drums, Percussion, Vocals

Wata

:

Vocals, Guitars, Effects
Production staff / artist
Merzbow

:

Producer

Miki Matsushima

:

Photography

Soichiro Nakamura

:

Mixing, Mastering

Kazu

:

Recording

Yasuaki Satake

:

Engineering
Additional notes
Live at EARTHDOM 18 Nov.2006 with Merzbow.

Released with English tracklist by Southern Lord in 2007 with different cover art.

Also released by Southern Lord in a triple-vinyl edition in a specially designed tri-fold, die-cut sleeve, limited to 5000 copies on various colours. It has different artwork from the CD and also contains the bonus track "Dyna-Soar" on the final side.