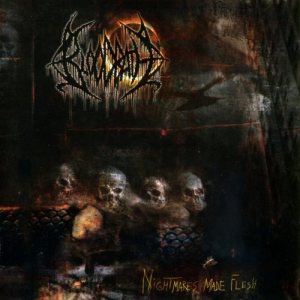 Nightmares Made Flesh
| | |
| --- | --- |
| Artist | |
| Type | Studio Full-length |
| Released | 2004-09-27 |
| Genres | Death Metal |
| Labels | Century Media Records |
| Length | 45:17 |
Reviews : 0
Comments : 0
Total votes : 0
Rating : -
Have : 0
Want : 0
Added by

Eagles
Last edited by

SludgeLeader
Nightmares Made Flesh Information
| | Title | Length | Rating | Votes |
| --- | --- | --- | --- | --- |
| 1. | Cancer of the Soul | 3:33 | - | 0 |
| 2. | Brave New Hell | 4:03 | - | 0 |
| 3. | Soul Evisceration | 3:38 | - | 0 |
| 4. | Outnumbering the Day | 3:15 | - | 0 |
| 5. | Feeding the Undead | 4:04 | - | 0 |
| 6. | Eaten | 4:19 | - | 0 |
| 7. | Bastard Son of God | 2:51 | - | 0 |
| 8. | Year of the Cadaver Race | 4:33 | - | 0 |
| 9. | The Ascension | 3:52 | - | 0 |
| 10. | Draped in Disease | 3:59 | - | 0 |
| 11. | Stillborn Saviour | 3:39 | - | 0 |
| 12. | Blood Vortex | 3:31 | - | 0 |
Peter Tägtgren

:

Vocals

Dan Swanö

:

Guitars, Bass, Backing Vocals, Lyrics (tracks 2, 6, 9 & 11)

Anders Nyström

:

Guitars, Bass, Backing Vocals, Lyrics (tracks 1, 4, 8 & 10)

Jonas Renkse

:

Bass, Guitars, Backing Vocals, Lyrics (tracks 1, 3, 5, 7 & 12)

Martin Axenrot

:

Drums
Guest / session musicians
Production staff / artist
Agni Kaster

:

Art Direction, Design (reissue)

Henrik Jonsson

:

Mastering

Wes Benscoter

:

Cover Art

Jens Bogren

:

Producer, Engineering

Andreas Hylthen

:

Photography (band) (reissue)
Additional notes
Recorded and mixed at Fascination Street, Örebro, May 2004.
Co-produced and co-engineered by Bloodbath.
Mastered at Masters of Audio, Stockholm.

US release date: March 8th 2005

US version contains two bonus tracks:
13. Breeding Death (Demo) - (4:22)
14. Ominous Bloodvomit (Demo) - (3:38).

All songs written by Bloodbath. The album was dedicated to the late Quorthon.

This is the only album with Peter Tägtgren (Hypocrisy) on vocals.

Limited slipcase version available, as well as digipack.

Vinyl limited to 500 handnumbered copies.

Reissued in October 2008 on century Media, with a different artwork.