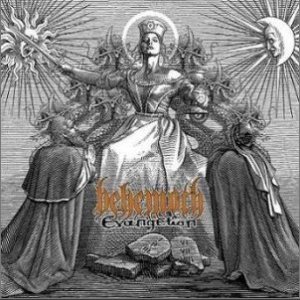 Evangelion
Reviews : 0
Comments : 0
Total votes : 0
Rating : -
Added by

HardLine
| | Title | Length | Rating | Votes |
| --- | --- | --- | --- | --- |
| 1. | Daimonos | 5:16 | - | 0 |
| 2. | Shemhamforash | 3:56 | - | 0 |
| 3. | Ov Fire And The Void | 4:28 | - | 0 |
| 4. | Transmigrating Beyond Realms Ov Amenti | 3:28 | - | 0 |
| 5. | He Who Breeds Pestilence | 5:41 | - | 0 |
| 6. | The Seed Ov I | 4:58 | - | 0 |
| 7. | Alas, Lord Is Upon Me | 3:16 | - | 0 |
| 8. | Defiling Morality Ov Black God | 2:50 | - | 0 |
| 9. | Lucifer | 8:07 | - | 0 |
Adam "Nergal" Darski

:

Vocals, Guitars

Zbigniew Robert "Inferno" Prominski

:

Drums, Percussion

Tomasz "Orion" Wróblewski

:

Bass

Patryk Dominik "Seth" Sztyber

:

Session Guitars
Additional notes
The album was mixed at Miloco Studios in London, England by Colin Richardson (Machine Head, Slipknot, Napalm Death).

The digipack edition include a bonus DVD with behind the scenes footage and expanded artwork.


Japanese edition includes "Total Invasion" as a bonus track

A video for "Ov Fire And The Void" was recorded.

"Lucifer" has a guest perfomance by Maciej Malenczuk on vocals. The lyrics are a poem written by Polish poet Tadeusz Miciński.