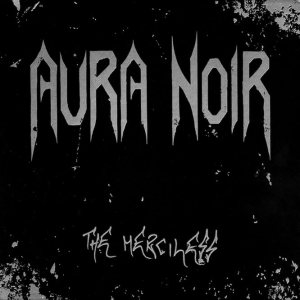 The Merciless
Artist
Type
Studio Full-length
Released

2004-10-01

Genres

Black Metal

,

Thrash Metal

Labels
Tyrant Syndicate, Peaceville Records
Length
27:39
Reviews : 0
Comments : 0
Total votes : 0
Rating : -
Have : 0
Want : 0
Added by

Borisman
The Merciless Information
| | Title | Length | Rating | Votes |
| --- | --- | --- | --- | --- |
| 1. | Upon the Dark Throne | 3:42 | - | 0 |
| 2. | Condor | 4:05 | - | 0 |
| 3. | Black Metal Jaw | 2:36 | - | 0 |
| 4. | Hell's Fire | 3:40 | - | 0 |
| 5. | Black Deluge Night | 3:25 | - | 0 |
| 6. | Funeral Thrash | 3:22 | - | 0 |
| 7. | Sordid | 3:24 | - | 0 |
| 8. | Merciless | 3:25 | - | 0 |
Aggressor

:

Drums (tracks 1, 2, 4, 6, 8), Guitars, Bass, Vocals

Apollyon

:

Drums (tracks 3, 5, 7), Guitars, Bass, Vocals

Blasphemer

:

Guitars
Guest / session musicians
Fenriz

:

Additional Vocals (track 1)

Nattefrost

:

Additional Vocals (track 6)
Production staff / artist
Apollyon

:

Lyrics (tracks 1, 4, 8)

Aggressor

:

Lyrics (tracks 2, 3, 5, 7)

Conrad Lagerud

:

Photography

Justin Bartlett

:

Layout, Design

Garm

:

Typography

Dirge Rep

:

Lyrics (track 6)

Zweizz

:

Lyrics (track 7)
Additional notes
Recorded between January - June, 2004, in Fias Company Studios.

The first album released on Tyrant Syndicate Records.

The first pressing of the album contains a few packaging mistakes (CD tray glued to wrong panel) by way of oversights at the printing press.

LP limited to 500 copies, 200 on grey and 300 on black.

2012 Peaceville Records vinyl reissue contains bonus track 'Sulphur Void'.